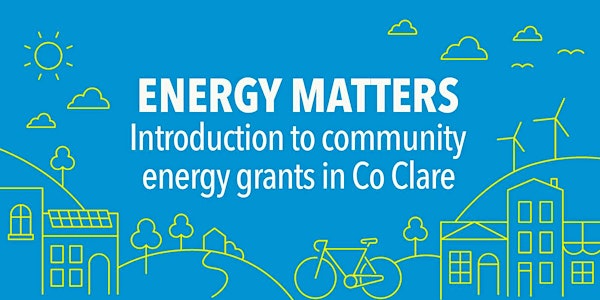 Energy Matters: An introduction to community energy in Clare
An introduction to community energy for householders and small businesses in Clare
About this event
Community energy grants can help communities, households and small businesses save money on energy bills, enjoy warmer buildings and make a positive impact on the environment – but what do you need to know to avail of these grants? This webinar on Tuesday, June 22nd at 8pm, will offer advice about the energy grants that are available to communities, householders and small businesses in Clare and how to access them.
Gloria Callinan of the Clare Local Development Company (CLDC) will speak about Sustainable Energy Communities (SECs) and how hundreds of communities in Ireland are already working together to become more sustainable in how they use energy.
Guest speakers include Christy Leyden, of Clarecastle Community Development, who will speak on the Green Your Festival training programme.
David Flannery of Superhomes.ie will give an input on their recently announced collaboration with Electric Ireland to retrofit 35,000 homes in Ireland,
Also taking part in the webinar will be Cllr Cillian Murphy and Cllr Joe Garrihy, who will share their experiences of working with Sustainable Energy Communities in Kilkee and Lahinch respectively.
The webinar will be chaired by Theresa O'Donohoe of Clare Environmental Network and one of the founder members of Clare PPN.
The event is organised by the CLDC and Clare Public Participation Network (PPN).