Energy Performance Contracting: A new approach to reducing energy costs and accelerating your organisation's transition to a sustainable, lo
About this event
OVERVIEW
Meeting the climate change aspirations outlined in Ireland's Climate Action Plan will require a significant transformation of Ireland's public and private sector buildings, and a considerable investment in the deployment of flexible, energy efficient solutions to the building stock.
This presents a huge challenge, but also a great opportunity for those tasked with the carbon transition and for the facilitators that contribute to enabling this change. It will require significant investment in the building sector to improve fabric, to upgrade the engineering systems and to integrate renewable technologies into the electricity grid. The task ahead will require building owners to mobilise and embrace this change, government to facilitate and incentivise it and the construction sector to build knowledge and develop capacity to deliver.
You are invited to a half day workshop in Kilkenny, explaining the concept of Energy Performance Contracting (EPC), discussing its role in the low-carbon transition and looking at the challenges and opportunities it presents for the building owners and stakeholders throughout the building sector supply chain. The workshop will also give an overview of the Horizon 2020 funded NOVICE Project which aims to present a new business model that can provide a unique approach to enabling the transition to a sustainable low carbon economy.
Come to meet with potential partners and collaborators and build long lasting business relationships!
TOPICS COVERED:
- Introduction to the concept of EPC (Energy Performance Contracting) and DR (Demand Response)
- Role of EPC and DR in the low carbon transition
- Benefits of EPC for the building owners
- How can facilitators help building owners with the EPC?
- EPC challenges and opportunities for the stakeholders throughout the building sector supply chain
- Successful stories
WHY ATTEND?
Building owners:
- Learn how to reduce current energy expenditure
- Fast track progress in your organisation's carbon transition
- Understand how future energy savings can be leveraged to finance the capital investment
- Meet the supply chain facilitators
Supply chain:
- Learn about potential new opportunities through Energy Performance Contracting for your company
- Discover how to seize the opportunity to enter an emerging market at an early stage
- Hear positive stories from local companies on their transition
- Meet potential clients at local level
- Meet potential partners and collaborators
Government Officials:
- Discover a solution on how to meet the climate change targets outlined in Ireland's Climate Action Plan
- Learn about energy performance contracting, a novel method of third party financing
- Find out what challenges do building owners and stakeholders throughout the building sector supply chain meet in trying to contribute to achieving the climate change targets
AGENDA
08:00 – 08:30 – Registration & Light Breakfast
08:30 – 10:00 – Unlocking hidden revenue and accelerating the carbon transition within your business (Noel Lawler Green Energy Solutions (NLGES), Veolia, SEAI & 3CEA)
10:00 – 10:30 – Coffee Break
10:30 – 11:30 – Supply chain opportunities & challenges: What's the scale of the opportunity and how can we address the financial and legal challenges? (NLGES, 3CEA, expert in windfarm contracts, financing expert)
11:30 – 12:30 – Next Steps: Assessing the opportunity, promoting client buy in, developing industry capacity to deliver the transition and developing EPC projects (NLGES, 3CEA)
12:30 – 13:00 – Panel Discussion
See the full agenda here .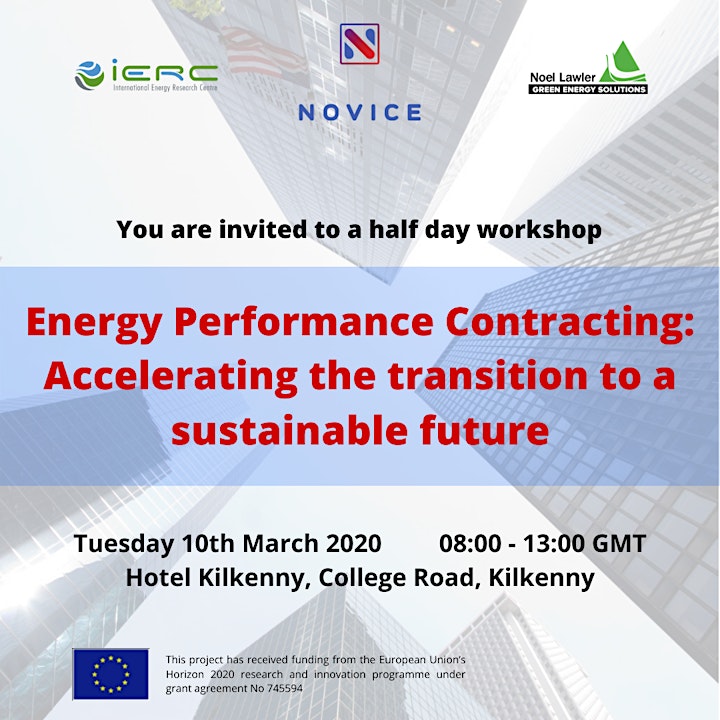 Organiser of Energy Performance Contracting: Accelerating the low-carbon transition