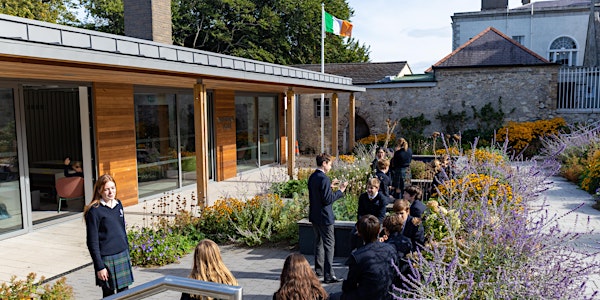 Location
St Columba's College
Kilmashogue Lane
Whitechurch
D16 CH92 Dublin 16
Ireland
An informal evening in lovely surroundings in which teachers share ideas about teaching Leaving Certificate English.
About this event
Come to a convivial evening in the lovely surroundings of Whispering House at St Columba's College to share ideas about teaching the Leaving Certificate English course. Teachers will speak about elements of the course, and there will be plenty of chance to ask questions. At the end, it's planned to discuss changes to Leaving Certificate English. Read more here.
Please note that this event has no 'official' element: it is 'just' a group of teachers coming together to share ideas.
St Columba's College is in Whitechurch near the M50 (see the map below). Eircode: D16CH92. Attendees will be guided from the car-parks to the venue, Whispering House. COVID-19 safety: masks are of course welcome, and the venue is an airy one with big glass doors which will be open to the garden by the side (see photo). Tea and coffee will be available from 6.30pm.
Speakers:-
Edmond Behan | Scoil Mhuire, Clane | The importance of perspective and narrative voice etc. in writing a short story.
Michael Browne | Presentation College, Bray | An introduction to teaching Shakespeare.
Trevor Connolly | Moyle Park College | Formative feedback
Julian Girdham | St Columba's College | Using quotations to think about texts.
Holly McIndoe | Hantsfield ETSS | Whole class feedback and live marking.
Jean Morley | St Columba's College | Promoting authenticity in the Leaving Certificate. classroom.
Selena Wilkes | New Cross College | Senior Cycle Poetry - linking texts