Description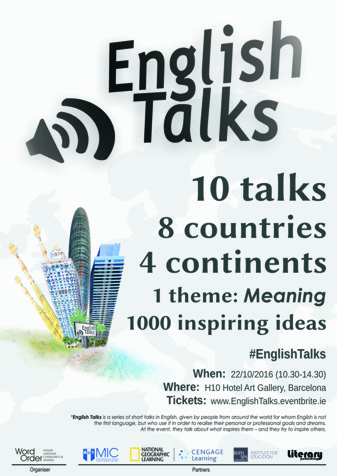 English Talks is a series of short talks in English, given by people from around the world for whom English is not the first language, but who use it in order to realise their personal or professional goals and dreams. At the event, they talk about what inspires them –​ ​​and they try to inspire others.
​Nowadays, approximately 80% of all English language conversations around the world take place between non-native English speakers. It is the language of business, education, entertainment and diplomacy. And as the world population will soon reach 8 billion, and as another billion will soon gain access to the Internet, the percentage of non-native English speakers achieving their different goals through English will get even higher. Much higher!
​Therefore, if you, too, recognise the ever-increasing importance of English as a medium of international communication, this event is for you.​
The 2016 edition of English Talks will take place on 22nd October in Barcelona (in the unique and gorgeous H10 Hotel Art Gallery), and we are delighted to announce that there will be speakers from eight different countries (four continents), with professional backgrounds ranging from linguistics, education and philosophy, to visual arts, sport and entrepreneurship.
PLEASE NOTE that all talks will be video recorded, and in order to ensure there are no interruptions to the recording process, entry to the event room will only be allowed before the event begins (10.30) and during the coffee break (12.30-13.00).
​More information about English Talks 2016, including speaker profiles, can be found on our Twitter or Facebook, and here's the poster.

​The videos of the talks from the previous edition of English Talks, which took place in Brazil, can be found on our website, as well as on our YouTube channel.