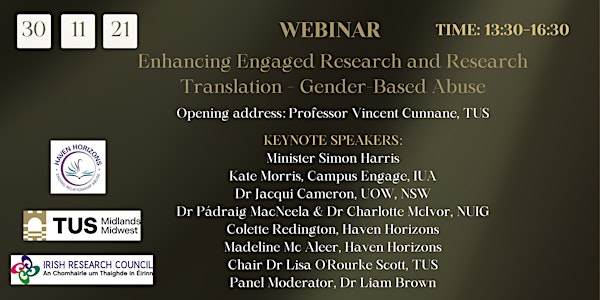 Enhancing Engaged Research and Research Translation - Gender-Based Abuse
Enhancing Engaged Research and Research Translation in the field of Gender-Based Abuse
About this event
This webinar is aimed at national and international academics, policy makers, community organisations, advocates who support sustainable societal change and other interested parties, to explore how researchers and engaged research partnerships can bridge the gap between research findings, practice and policy.
We are hoping this event will increase networking, collaboration and research proposals between gender-based-abuse researchers and increase partnerships with frontline organisations and individuals directly or indirectly impacted by the issue.
Please click the link below to join the webinar:
https://zoom.us/j/98659337483?pwd=RkVzL2hwbURyZ2FUclNJMUNCOHBRdz09
Passcode: 765899
Opening Address: Professor Vincent Cunnane, TUS
KEYNOTE SPEAKERS:
Minister Simon Harris
Kate Morris, Campus Engage, IUA
Dr Jacqui Cameron, UOW, NSW
Dr Padraig MacNeela & Dr Charlotte McIvor, NUIG
Colette Redington, Haven Horizons
Madeline Mc Aleer, Haven Horizons
Chair Dr Lisa O'Rourke Scott, TUS
Panel Moderator, Dr Liam Brown, TUS
The event is organised by Haven Horizons and EDGE Research Group, TUS (Exploring Diversity, Gender and Equality).
Haven Horizons - National Education and Research Centre
Haven Horizons is a national education and research centre focused on the elimination of relationship abuse and the associated gender inequalities. Haven Horizons was established by people who had been involved in the area for 20 years. After setting up and running frontline crisis accommodation and outreach services in Co. Clare, the group recognised that there were huge gaps in victim safety, perpetrator accountability, education, applied research, prevention and evidence-based interventions.
Haven Horizons Key Objectives - awareness raising, education, engaged and applied research, and the establishment of demonstration sites for effective, evidence-based primary, secondary and tertiary prevention models.
Haven Horizons is voluntary organisation and a registered charity.
EDGE Research Group, TUS (Exploring Diversity, Gender and Equality)
The Social Sciences ConneXions Research Institute was established in the Limerick campus.
EDGE, under the Department of Applied Social Sciences, is a member research group of the ConneXions Research Institute.
EDGE investigates a broad range of topics related to the ways in which genders and sexualities impact on people in contemporary society. Core principles underpinning social research undertaken in TÚS involves a commitment to conducting research that is engaged, practical and useful to practitioners, people directly affected by the issue, and policy makers.
The progression to university status has highlighted the existing focus on engaged social research and research translation.
Let the world know you're attending the WEBINAR by popping into our virtual booth and snapping a picture of yourself.
Ready to do this?
1. Click: http://events.boothlinks.com/737028374/booth
2. Choose Your Experience (Still or Burst) and click NEXT
3. Select A Template (below the frame) and click NEXT
4. Allow the app to access your camera
5. Snap a picture
6. SHARE it on your social media with #researchgba