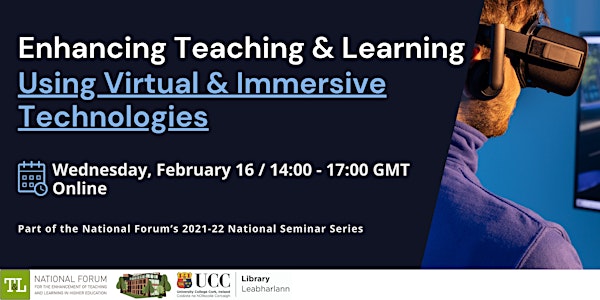 Enhancing Teaching and Learning Using Virtual and Immersive Technologies
Part of the National Forum's 2021-22 National Seminar Series.
About this event
The use of virtual reality in education continues to grow and VR applications can be found across a broad range of disciplines including health sciences, engineering, business, and many other disciplines in science and the arts. As the technology continues to advance, VR will become more affordable and accessible. Within education, VR offers unique learning opportunities for gaining knowledge, developing skills, and promoting students' motivation and engagement.
This online seminar from UCC Library will explore the ways in which VR has been used as an innovative instructional application and provide insights into the "when," "why" and "how" of using VR to maximize learning impact and support student engagement and success. Presenters come from a range of backgrounds and will speak on their experiences in VR, whether that be sharing knowledge on embedding VR in a course or facilitating access through support services like libraries.
Learning Outcomes:
Consider the benefits and potential of VR in education in enhancing learning, teaching, and overall digital capability
Identify possible VR applications for their own teaching and learning
Understand the resources and requirements needed for using VR in educational contexts
Consider the enhancements to the interdisciplinary learning experience using virtual and immersive technologies
This event has been funded by the National Forum for the Enhancement of Teaching and Learning in Higher Education, Ireland.
For more information, visit https://www.teachingandlearning.ie/event/enhancing-teaching-and-learning-using-virtual-and-immersive-technologies or email libraryseminar@ucc.ie.