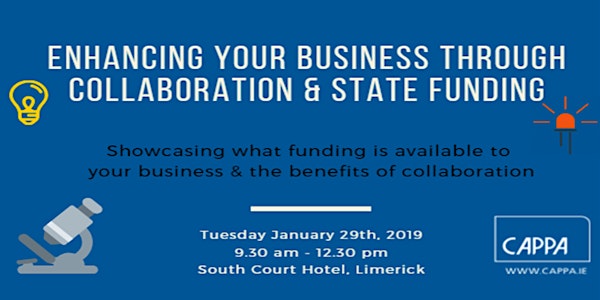 Enhancing Your Business Through Collaboration & State Funding
A free seminar showcasing what funding is available to your business and the benefits of collaboration
When and where
Location
South Court Hotel South Court Hotel V94 E77X Raheen Ireland
About this event
The Centre for Advanced Photonics and Process Analysis (CAPPA) would like to invite you to a free seminar focusing on how to enhance your business through collaboration and state funding.
Here you will learn about:
- Integrating innovation into your business
- Understanding state funding incentives
- Navigating the research and innovation process
- How innovation can transform your business
Do you want to learn more about what funding incentives are available to your business and the benefits of collaboration? Why not visit the CAPPA enhancing your business through collaboration and state funding seminar. This seminar will enable you to learn more about how your business can avail of the various funding incentives available as well as see examples of companies who have previously utilised this funding. If you are an industry professional and you are looking to get a competitive advantage this event will be ideal for you.
This free event offers a unique opportunity to hear from Enterprise Ireland about the benefits of collaboration as well as the various government funding incentives that are available and how to apply for them.
CAPPA has helped start-ups, SME's and multinational companies to avail of various government funding incentives for ideas they have enabling them to get valuable funding to progress their innovation idea. Some of the funding incentives that will be covered on the day will include the Innovation Voucher, Innovation Partnership, Agile Innovation Fund and the Disruptive Technologies Innovation Fund.
At the seminar you will hear examples of companies CAPPA has worked with and how innovation has transformed their business. These range in a variety of sectors including medical, pharmaceutical, photonics, consumer electronics, food and beverage. The companies range in size from start-ups to large multinational companies.
This half day event will be broken into two sessions. The first session of the morning will focus on various state funding incentives that are available and the second session will focus on the benefits of collaborative work and how it can enhance your business, with a break in between where light refreshments will be served.
This event is open to everyone, but is ideally suited to business owners and industry staff looking to advance their business. There will be a range of 1-1 meetings available after the event, enabling you to speak with a CAPPA representative about your business queries in detail.
If you would like to find out more information about the event you can contact CAPPA directly by phone on +353 21 433 5339 or by emailing cappa@cit.ie.