About this Event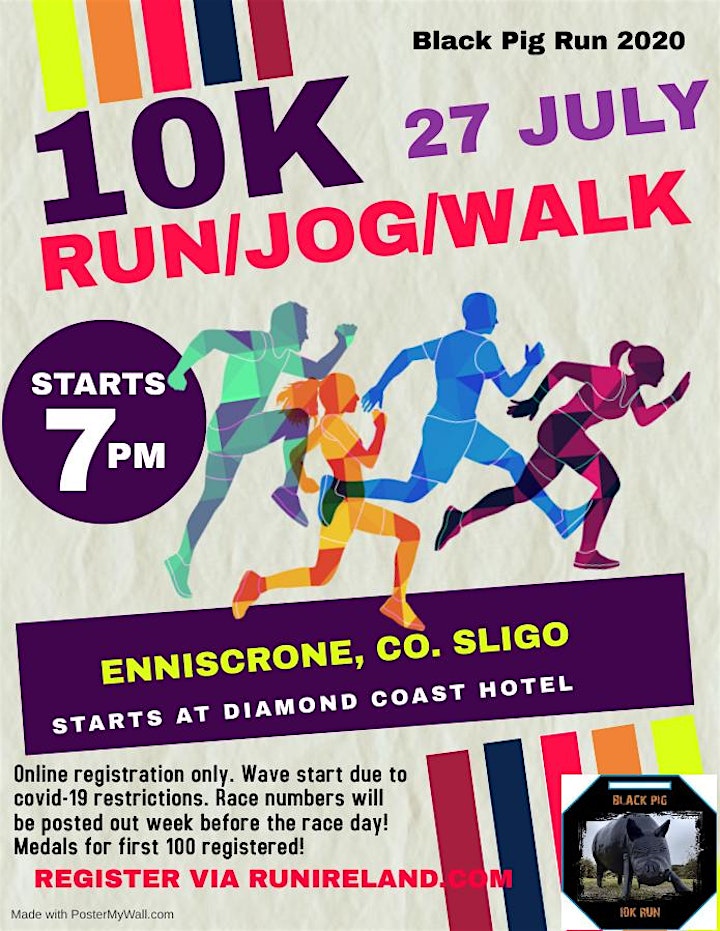 The Annual Black Pig 10k run will take a place on Monday 27th July in Enniscrone Co. Sligo. For this year we will only be running the 10k event. Due to ongoing precautions with Covid-19, and to adhere to all government and HSE guidelines, the event will see following changes:
- There will be Water (Bottles Only) on the 5k mark and finish line;
- First 100 registered participants will receive their medal on finishing, however there will be no trophies/prizes awarded on the night of the race, winners will be contacted afterwards.
- Strict covid-19 procedures will be in place and will have to be adhered to!
- The event will be online registration only, and all race numbers will be posted out prior to the event.
- All participants will have start wave assigned prior to the event, this will be published on social media and emailed out to all participants (Wave will be assigned based on your predicted finishing time, at the time of registration.
- MANDATORY SELF certification Covid-19 form will have to be submitted online prior to race number dispatch!
- Unfortunately, this year there can be no registrations on the race evening - online registration will close on the 19th July 2020!
VIRTUAL 10k RUN - as requested we have now added a Virtual Run option for those who would like to support our event but won't be able to make it this year. Rules here are simple - sign up, then in your convenient time and place complete your run and email us a proof of it - gps link, activity tracker screenshot/photo and we will post out medal to you.