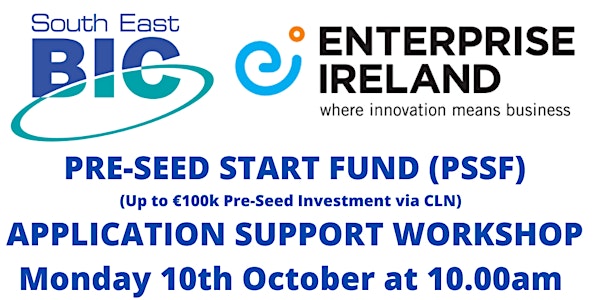 Enterprise Ireland's new Pre-Seed Start Fund Information Workshop
This workshop is for Startup businesses who are interested in/eligible to apply for the new PSSF from EI, not for consultants or advisors.
About this event
Support Range: €50k or €100kSupport Type: Convertible Loan Note Investment
The purpose of the Pre-Seed Start Fund is to accelerate the growth of early-stage start-up companies that have the capacity and ambition to succeed in global markets. The fund is designed to enable companies cover operational costs to undertake key tasks including the development of a market ready product/solution, product testing in the marketplace, building critical skillsets within the start-up team. The Pre-Seed Fund will support early-stage companies to reach key technical and commercial milestones required to attract future Seed Funding within 6 – 18 months.
Applications received will be reviewed and assessed by taking into account the objective of the Fund, required criteria of the Fund, the stage of development of the start-up and assessment of the following areas outlined in the application submitted.
Ideally (though not essential) have a Minimal Viable Product (MVP) or live in Beta and that the product or service has early demonstrable customer validation.
A fully articulated proposition addressing a clear opportunity with market research conducted with customers/potential customers.
A clear execution plan outlined, clearly identifying key milestones to be achieved such as identifying suitable channels to international markets or technical product development roadmap.
Evidence of innovation, internationalisation potential and employment capacity, clear international market opportunity for the proposed product or service, clear knowledge of the international competitive landscape.
A team with experience, domain knowledge and balance of skills (Tech, Commercial, etc.) and commitment to execute on the plan.
Please note there is specific qualifying criteria for this fund: see here: https://www.enterprise-ireland.com/en/funding-supports/Company/HPSU-Funding/Pre-Seed-Start-Fund.html
Proposed Agenda
10.00 am Welcome – Rosemary Ward, South East BIC
10.05 am Overview of Pre-Seed Start Fund – Susan Cahill & Annemarie Coogan, Enterprise Ireland
10.40 am Q & A on Pre-Seed Start Fund
10.45 am Overview of the PSSF Application Form – Rosemary Ward, South East BIC
11.20am Q & A on Application Process
Please note this is a meeting format and will be interactive as much as possible.