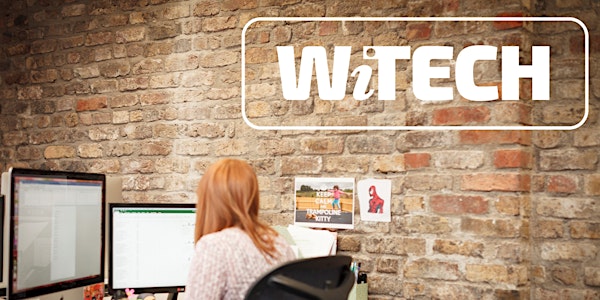 Entrepreneurship for Women in Technology – an event from WITECH
On 30th November 2022, The Digital Hub will host an event entitled 'Entrepreneurship for Women in Technology'.
When and where
Location
Digital Depot at The Digital Hub Roe Lane D08 TCV4 Dublin 8 Ireland
About this event
The event takes place in our Digital Depot building from 3pm to 6pm (followed by networking and refreshments.
Be inspired by the stories of women entrepreneurs and learn about the free MOOC (Massive Open Online Course) designed to build skills and confidence in women with STEM qualifications and lead them to create their own innovative businesses.
Women represent 52% of the total European population, but only 34.4% of the EU self-employed and 30% of start-up entrepreneurs. This makes female entrepreneurial potential an under-exploited source of economic growth and creativity. When establishing and running a business, women can face particular challenges such as accessing finance, training and business support networks. These challenges discourage many women from pursuing entrepreneurship, and this is especially acute within the ICT sector where women are already under-represented.
This event will provide an opportunity for women to be inspired by the stories of other women who have followed an entrepreneurial path, and to introduce the free online course (see details on accessing this course below) hosted by the Polytechnic University of Milan which is designed to support a female entrepreneur.
Our speaker line-up includes:
Niamh Donnelly, Co-Founder and Chief Robotics Officer at Akara Robotics
Talita Holzer, CEO & Co-Founder at waytoB & Programme Manager at The Open Doors Initiative
Dervilla O'Brien, Founder at HealthBridge Technology Ltd
Elaine Burke, Editor of Silicon Republic (Panel Moderator)
Cristina Rossi Lamastra, Full Professor of Business and Industrial Economics, President of the POLIMI Guarantee Act Committee, Head and Coordinator of WiTech Project (WITECH speaker)
Omar Mazzucchelli, Ph.D student, Department of Management Engineering  (WITECH speaker)
Furkan Karayel, Author, Speaker, Lecturer (Keynote Speaker)
About WITECH
WITECH is an EU Erasmus+ initiative that seeks to encourage female scientists, engineers and technologists across Europe to develop businesses based on their expertise. The Digital Hub, along with TU Dublin, are the Irish partners in WITECH.
The project began in September 2019 and was developed by Politecnico di Milano, Milan, Italy, Digital Hub Development Agency, Dublin, Technological University, Dublin, The Start-up Shortcut, Helsinki, Finland, Lappeeranta University of Technology, Lappeeranta, Finland, Polihub, Milan, Italy & IPAG, Institut de preparation a l'administration et a la gestion, Paris, France.
A MOOC, or Massive Open Online Course, sits at the heart of WITECH, which following development and testing of its modules during 2022 is now available online. This blended learning course builds skills and confidence in woman with STEM qualifications that can lead them to create their own innovative businesses.
Watch an introduction to the course: www.youtube.com/watch?v=qF5yCRc8TsI
Learn more at www.witech.training
How to access the MOOC
To access the course, please first register at this link and then enrol here to the MOOC, where you can see the description of the MOOC and the teaser as well. If you have an institutional email account, please use this when enrolling. This course can be used by other academic institutions in their own modules, or by those with no academic affiliation.