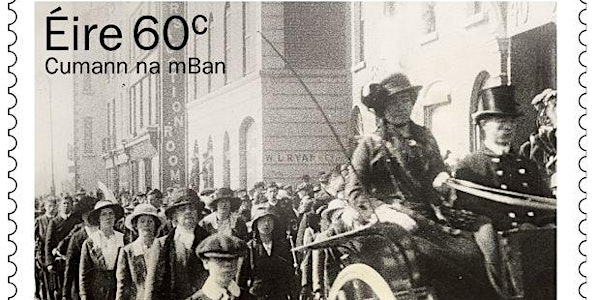 Equality Denied - The denial of the Easter Proclamation's Promise to Women.
By minimising the contribution of women during the 'Revolutionary Period' the new state rendered them invisible and unequal.
When and where
Location
Rathangan Community Library Kildare Road Rathangan Ireland
About this event
'Equality Denied' – Rathangan Community Library December 10th 2022.
The Ireland which emerged from the Civil War repudiated the promise in the Easter Proclamation of equal citizenship, equal rights and equal opportunities for women. Going further it minimised the role played by women in the Revolutionary Period, refused to acknowledge or speak of the violence visited on women, and actively wrote women out of the official narrative. Many of those who had been active in the Revolutionary Period found themselves living in a state which was both uncaring and hostile.
Equality Denied' on Saturday December 10th takes place in Rathangan Community Library and features presentations by Dr Leanne Lane, DCU, Karel Kiely, County Archivist, and Dr Mary McAuliffe UCD. It will be followed by a question-and-answer session.
In Gender, the revolution and the formation of the new state. Dr Leeann Lane, School of History and Geography, DCU, takes the following quote as her starting point - 'is this then the reward that is to be meted out to a mother who devoted the best young years of her life to her country.' Dr Lane lectures in the School of History and Geography, DCU. She is the author of Rosamond Jacob: Third Person Singular (UCD Press, 2010) and Dorothy Macardle (UCD Press, 2019). She is currently working on a biography of Mary MacSwiney. She is also a member of the Expert Advisory Group on the Decade of Centenaries having been appointed by the Taoiseach in 2012.
In Women scorned - A study of Republican Women Activists in Co. Kildare 1916-23 through pension applications and newspaper reports. Karel Kiely - Kildare County Archivist – builds on her work recovering the names and biographies of women who have been written out of history. Educated in Trinity College Dublin, and Maynooth University, she has been involved in genealogy and local history for over thirty years. A former Secretary of the Irish Family History Foundation, she set up and managed the first Irish site to make genealogical records available online - www.rootsireland.ie She is co-author of a number of books including Tracing Your Kildare Ancestors and Remembrance: The World War Dead of Co. Kildare.
In her presentation Dr Mary McAuliffe builds upon her research for 'An Unsafe Environment'; The Homefront as Battlefront, Ireland, 1919-1923' During the Irish War of Independence and Civil War women's spaces were attacked in very deliberate attempts to terrorise – including the burning of the house, searches, hair shearing, sexual assault etc. However, the particular experiences of women in what should have been a safe domestic environment, is made invisible in accounts that focus on the 'great men' who led the struggle. Dr McAuliffe is Lecturer/Assistant Professor in the School of Social Policy, Social Work and Social Justice UCD. Recent publications include 'Commemorating Women's Histories during the Irish Decade of Centenaries', Éire-Ireland, Volume 57, Numbers 1 & 2, Spring/Summer 2022, 'The Forcible Hair Cutting of the Cullen sisters of Keenaghan, Co Tyrone; Gendered Violence against Women' in Darragh Gannon & Fearghal McGarry (eds) Ireland 1922; Independence, Partition, and Civil War (Royal Irish Academy, 2021)
For further information see Creative Rathangan Meitheal's Facebook Page.
This is a free event running from 10.00 – 1.00 but registration is essential as places are limited. To book a place phone 045 528078
Or email rathanganlib@kildarecoco.ie