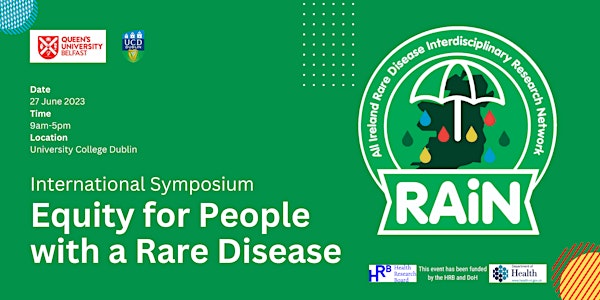 Equity for People Living with a Rare Disease: An International Symposium
Fostering knowledge exchange and participation of a broader audience in critical dialogue related to equity and innovations in rare diseases
By University College Dublin
Date and time
Tue, 27 Jun 2023 09:00 - 17:00 IST
Location
University College Dublin George Moore Auditorium, O'Brien Centre for Science Stillorgan Rd Roebuck Belfield Ireland
About this event
Rare diseases (RD) are a group of medical conditions whose signs and symptoms are heterogeneous but are grouped together due to individual low incidence rates. While individually rare, RDs are collectively common in society and are a significant global public health and policy priority. Health and social inequalities are more prevalent amongst those living with RDs than the general population, yet the RD community lacks diversity and representation.
The All-Ireland Rare Disease Interdisciplinary Research Network (RAiN) programme is funded by the Department of the Taoiseach from the Shared Island strand of the Irish Research Council's 'New Foundations' awards. The network builds on established north-south research partnerships between University College Dublin (UCD)and Queen's University Belfast (QUB) with 35 partners across Northern Ireland and the Republic of Ireland, including HEIs, Healthcare Providers, patient organisations, Industry and International Organizations.
This international symposium on "Equity for People Living with a Rare Disease" is funded by Health Research Board (HRB). This is a collaborative effort between rare disease interdisciplinary researchers and community groups across the island of Ireland and aims to share international perspectives and foster north and south collaboration among researchers, practitioners, policymakers, patients and families working on rare diseases. This symposium will offer a platform for the discourse on equity and innovations in rare diseases to advance health service developments, co-design solution-focused interventions, leverage funding, and facilitate internationally excellent translational rare disease research. Most importantly, it aims to support capacity building in rare diseases to inspire and empower early career researchers as emerging leaders.
International experts include :
Dr Lina Jankauskaite: Head of Coordinating Centre for Rare and Undiagnosed Diseases, The Hospital of Lithuanian University of Health Sciences Kauno Klinikos, Lithuania
Dr Marshall Summar: Director, Rare Disease Institute Laboratory, Children's National, Washington D.C., USA Chief Executive Officer, Uncommon Cures, LLC
Please see the released draft programme for more information.