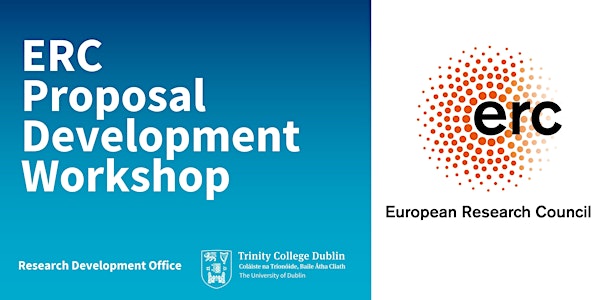 ERC Proposal Development Workshop for Starting and Consolidator Applicants
Proposal Development Workshop for ERC Starting and Consolidator Grant Applicants (TCD researchers only)
When and where
Location
Trinity College Dublin College Green Dublin 2 Ireland
About this event
Registration closes 10th August
Trinity's Research Development Office is pleased to welcome ERC experts from Enspire Science to deliver a comprehensive workshop designed to help applicants prepare a competitive ERC application. This course is open to Trinity's prospective Starting Grant applicants (deadline expected 25th October 2022) and Consolidator Grant applicants (deadline expected 2nd February 2023). This will be a hybrid course with an online and face to face element, where applicants will have the opportunity to meet Enspire's consultants, the ERC funding specialists in the Research Development Office and fellow applicants.
Registration on Enspire's online learning platform: 8th -17th August
Registrants will be sent Enspire's information sheet with further details on the course. This document will also include a link to an online registration form which must be completed in order to access the course materials.
"ERC Basics" online course: 22nd August - 4th September
Learn the essential rules, requirements and terminology of the ERC grant. Registered participants will be invited to view the online course when most convenient to them during this two week period.
"ERC Beyond" on-campus workshop: 9am-4pm, Monday 5th September
Learn the counterintuitive, elusive and conceptual parts of developing an ERC grant in an in-person workshop. Tea, coffee and lunch will be provided.
You may also be interested in our ERC Proposal Reading Day taking place on Tuesday 6th September: https://www.eventbrite.ie/e/erc-proposal-reading-day-tickets-379153928607
Please indicate at least 2 weeks before the event date if you have any access requirements, such as ISL/English interpreting, so that we can facilitate you in attending this event.
Data Protection Notice: The RDO fully respects your right to privacy. Personal data captured to register for this event will be used only for this event and for its evaluation. All data will be processed in accordance with the General Data Protection Regulation (EU) 2016/679 and the Irish Data Protection Act 2018. Further information on data protection compliance at Trinity College Dublin is available at https://www.tcd.ie/privacy/