About this Event
This workshop is for you if you are a woman who is TIRED of that inner critical voice that keeps telling you that you are not good enough when you KNOW IN YOUR GUT THAT YOU DESERVE MORE!!
A 2018 UK Study showed that 70% of women suffer from Impostor Syndrome. Impostor Syndrome is associated with self-limiting beliefs and it is a dangerous force that keeps women from stepping into their full potential. Evidence shows that this process starts early:
A 2019 study found that children aged 4 – 6 years old associate positions of power with being a man.
A 2016 Study showed that girls start opting out of activities, aimed at "smart kids" at the age of 6.
A 2016 showed that children progressively become less likely to draw a woman, when asked to draw a scientist from the time they start school. By the age of 14, boys and girls are 4 times more likely to draw a male, rather than a female scientist.
Ireland's winners of the Young Scientist of the Year 2020 award replicated this study. They found that 96% of boys between the ages of 5 – 7 identified engineers as being male vs 50% in girls.
Why is this happening?
What exactly is happening?
Can it be prevented?
Can this phenomenon be reversed?
This workshop draws from the fields of history, sociology, neuroscience, psychology, cellular biology, Game of Thrones, genetics, energy psychology, and quantum physics to answer these questions – in a way that makes sense!
The good news is YES!!!
• It can be prevented.
• It can be reversed. No matter how old you are. This workshop will give you practical strategies to do just that!!
Just imagine what could happen if 100% of women started making decisions based on self-empowerment rather than self-limiting beliefs!!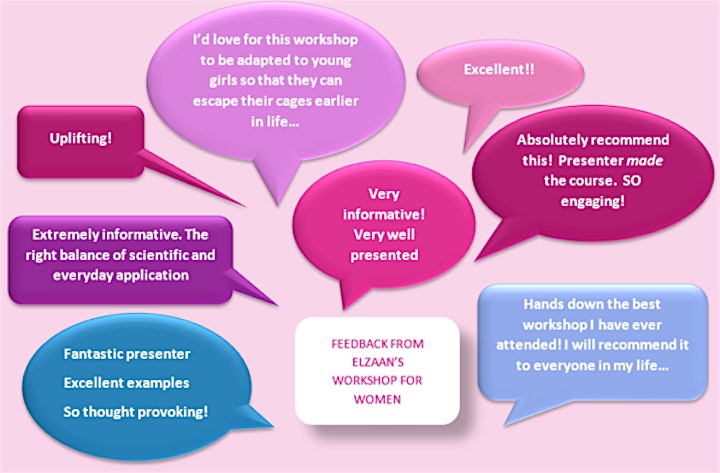 Programme for the day
09:30 - 10:00: Registration
10:00 - 11:30: Why do women have a cage of self-limiting beliefs (i.e. I am not good enough / I am an imposter) and where does it come from
11:30 - 11:45 Coffee Break
12:00 - 13:00: Now that we understand the cage, how do we get out of it?? How do I figure out who "Free Me" is??
13:00 - 13:30 Lunch (included in price)
13:30 - 14:30 Strategies for breaking out of the cage (becoming the "me" I was born to be)
14:40 - 14:45 Coffee Break
15:00 - 15:45: Forces that will pull you back into your cage and how to overcome these
15:45 - 16:00 Closing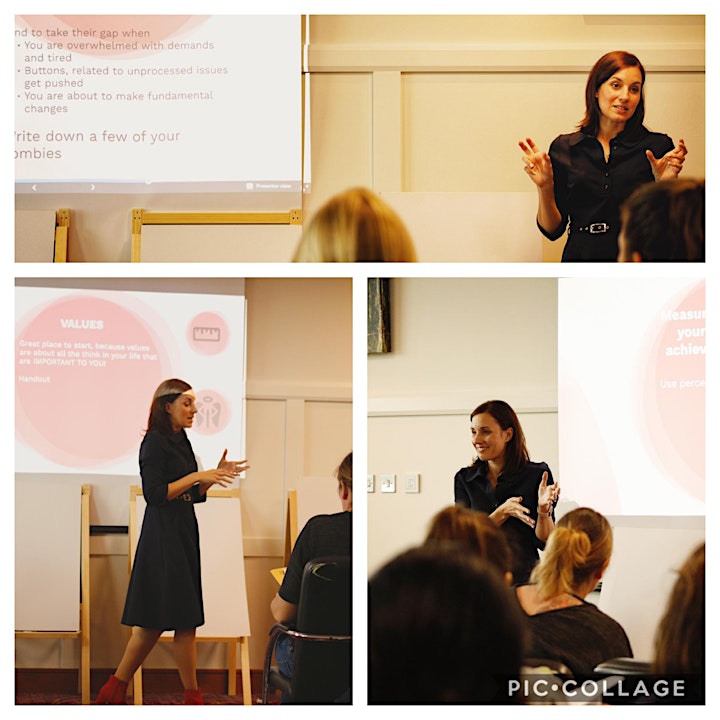 About the Presenter
Elzaan Marnane is registered with the PSI as a Chartered Clinical Psychologist. She is the co-owner and director of Core Clinical, a private psychiatry and psychology service in Dublin. She currently also works with Empower, a company dedicated to empowering disadvantaged members of the community in the Fingal area. In 2006, she started her journey of escaping her cage by boarding a plane for Ireland with no more than a pink suitcase and a load of study debt!! This workshop is based on science and psychological principles but is also backed by personal experience.