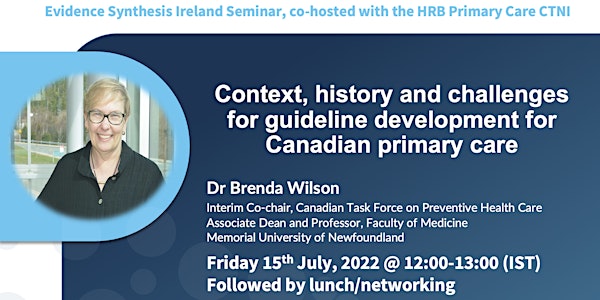 ESI Seminar with Dr Brenda Wilson, co-hosted with the HRB Primary Care CTNI
Location
Room CA004
JE Cairns Building
NUI Galway
Galway Galway
Ireland
Dr Brenda Wilson - Context, history and challenges for guideline development for Canadian primary care
About this event
The Canadian Task Force on Preventive Health Care was established by the Public Health Agency of Canada (PHAC) to develop clinical practice guidelines that support primary care providers in delivering preventive health care. Guideline development is based on systematic analysis of scientific evidence with input from patients and the public, health care practitioners, knowledgeable specialists, health professional associations, health charities, academic institutions and guideline producers in other countries. The Task Force was created to bring together experts with the skills and knowledge to evaluate evidence on complex preventive health care strategies. It is an independent, objective, arms-length panel of experts without ties to industry or government. The Task Force creates national preventive health care guidelines, based on the latest evidence and with input from a range of experts and key stakeholders including patients and members of the public. Task force recommendations have been recognized nationally and internationally for their rigor and usability with wide adoption in primary care.
Brenda Wilson is a UK-trained public health physician. She held faculty positions in Aberdeen and Ottawa before joining Memorial University of Newfoundland in 2018. As associate dean, she is responsible for providing academic leadership in education and research related to population and applied health research and professional public health practice, and supporting the medical school's social accountability mandate. As an investigator, her research has mainly focused on producing evidence relevant to emerging genomic technologies in real world health care. She was a founding member of the Institute for Science, Society and Policy, and of the Centre for Health Law, Policy and Ethics, both at the University of Ottawa.
Dr Wilson has participated in many Canadian federal and provincial bodies concerned with policy aspects of genetics specifically, but also technology assessment, public health, and disease prevention more generally. She has been a member of the Canadian Task Force on Preventive Health Care since 2015, serving as interim co-chair since September 2021.
This lunchtime seminar, on July 15th, will be followed by lunch / networking.