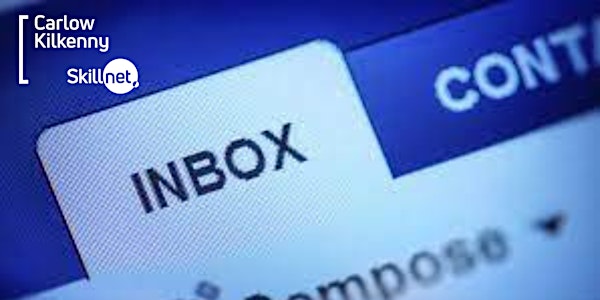 Essential Email Etiquette Skills
Essential Email Etiquette Skills
About this event
Our trainer for this workshop is Karen Sommerville Call Focus. Established since 1999, Call Focus has worked with a wide spectrum of clients in both the consumer and business markets. Customers to dates include companies in a variety of sectors including IT, Telecoms, Financial, Educational, Media, Property, Events & Leisure, Travel, FMCG, Services, Charities plus many others extending across many industry sectors.
Who Should Attend:
A practical and interactive half-day programme, the course is designed for staff, who would like to apply appropriate business etiquette with colleagues and customers daily using email – includes general staff in customer service, administration, reception, sales, accounts, production, operations and HR amongst others.
Overall Aim:
The aim of the workshop is to help staff develop a greater understanding of the importance of communicating effectively with both internal and external customers using electronic mail at all times. Participants will learn the rules of essential etiquette required to communicate in a professional and competent manner in order to portray a professional image and ensure smooth interactions and better relations with colleagues and customers.
Objectives
After completing the workshop, each participant will be able to:
• Manage email as an effective communications tool for better relations
• Identify the strengths and limitations for using email to communicate versus phone or face-to-face
• Use various features of email effectively to portray a professional image
• Build confidence with customers by generating personalised and professional emails
• Create relevant, correctly formatted emails using the appropriate language, content and style
• Send emails to the right people, using copy and blind copy functions
• Show confidentially and discretion when sending attachments or forwarding emails
• Keep emails easy to follow using relevant subjects, email threads and more
• Reply to recipients courteously using the right approach, tone and level of urgency
• Keep customers informed using detailed signatures, notifications and out of office replies
• Follow company email policies & apply business etiquette dealing with confidential matters
Workshop Content:
• The advantages and disadvantages of email as a communications tool
• Choose the right way to interact with others – email versus phone or face-to-face
• Know your audience, understand their needs, pre-empt questions and meet expectations
• Keep customers interested using personalised emails without information overload
• The importance of writing concise emails with essential business English -grammar, punctuation, spell check
• Send, copy and receive emails with relevant subject headings and acceptable formatting
• Impact of forwarding emails & sending attachments – confidentiality, permission & data protection
• Good protocol for responding to emails, managing flames, anger and quick responses
• Managing email traffic using the efficient on-line filing system
• Keep customers informed using signatures, notifications & out of office replies
• The use of abbreviations, emoticons, textese and slang in business
• Legal implications for unwarranted email behaviour – libel, offensive and defamatory emails
Training method
Training is delivered over one half day. It is highly interactive with group discussions, case studies and feedback based on individual/group needs. Participants on virtual workshops are required to switch on their camera and audio.