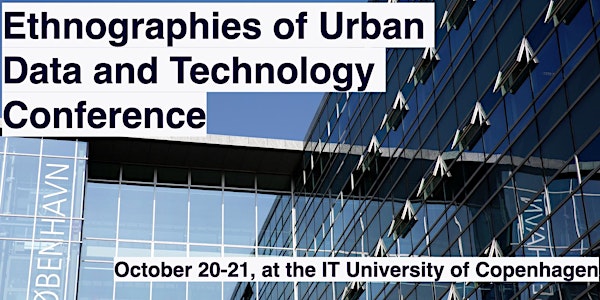 Ethnographies of Urban Data and Technology
The conference explores ethnographic approaches to the shaping of urban space by data and technology
When and where
Location
IT University of Copenhagen 7 Rued Langgaards Vej 2300 København Denmark
About this event
Urban spaces are increasingly monitored and regulated through digital technologies. From air pollution sensors and heat cameras mapping human movement, to "smart cities" and Do-It-Yourself monitoring by grassroot groups (Gabrys 2019), technologies have an increasing role in shaping the city. Yet, the city is not a computer, as Shannon Mattern (2021) has argued, and the data and technologies are not just adopted top-down but influence the very ways of comprehending the city and civic engagements (Powell 2021). So how are these data and technologies used and conceived by planners, architects, politicians and related professionals, and how do data and technologies relate to people's experiences of space and notions of urban citizenship?
This conference holds a twofold focus: firstly, it invites papers that deals with the ways urban data and technologies are practically used and deployed by actors within various professions working with urban space. Secondly, it deals with how people understand and inhabit environments that are shaped through such data and technologies.
Possible themes include:
The politics of data
Sensors and senses: Overlaps and gaps between data and experience
Creating data on the intangible: sound, air, and light
Ethnographies of urban technologies and civic society
Keynote speakers:
Dr Alison Powell, London School of Economics
Prof Kim Fortun, University of California Irvine
Dr Anders Koed-Madsen, Aalborg University
To give a presentation send your abstract to luil@itu.dk before August 15.