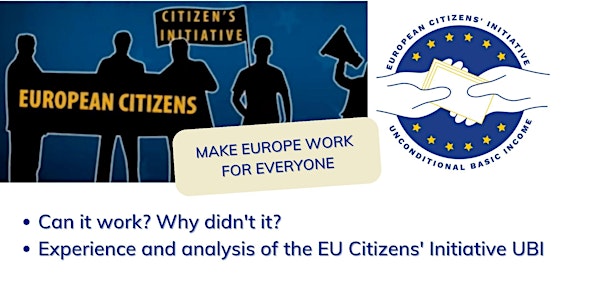 EU Citizens' Initiative Unconditional Basic Income- Creating Social Rights?
The European Citizens' Initiative (ECI) is to empower direct democracy. Yet the ECI on the Unconditional Basic Income failed. Why?
By JMCE CoE EU Integration and Citizens Rights
Date and time
Thu, 15 Jun 2023 16:00 - 18:00 IST
Location
Áras Na Laoi Bóthar an Choláiste #Aras Na Laoi Corcaigh Ireland
About this event
The European Citizens' Initiative (ECI), created in 2009, should have empowered genuine transnational European political participation. Yet the troubled journey of the ECI aiming to create an unconditional basic income in the EU suggests otherwise: first the EU Commission refused to register it, and after being launched it failed to gather 1 Million signatures. We reflect with legal and political science scholars and a board member of the UBIE initiative, which first launched it .
Speakers: Dr Sergiu Gherghina, Senior Lecturer in Comparative Politics, University of Glasgow, UK; Dr Anastasia Karatzia, Senior Lecturer Essex Law School, University of Essex, UK; Dr Ulrich Schachtschneider, energy consultant, UBIE board member, GermanyChairs/Discussants: Dr Theresa Reidy and Prof Dagmar Schiek (both JMCE EUICR @UCC).
This event is hybrid. On this page you can register to participate in person, but if you wish to participate online please register here