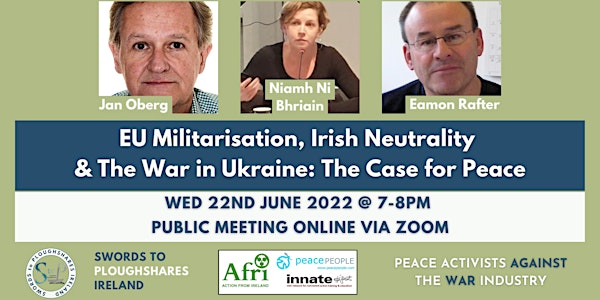 EU Militarisation Irish Neutrality & the War in Ukraine: the Case for Peace
Online Public Meeting. EU militarisation, Irish Neutrality & The War in Ukraine: the Case for Peace
About this event
Swords to Ploughshares Ireland invites you to a conversation between Jan Oberg (Director of the TFF-Transnational Foundation for Peace and Future Research, Sweden) Eamon Rafter (World Beyond War, Ireland and SToP) and Niamh Ni Bhriain, Programme Coordinator War and Pacification at the Transnational Institute, The Netherlands.
The participants will reflect on the growth of EU militarisation and the importance of retaining Irish neutrality. They'll examine the attempts by the global war industry to grow military budgets and their profits on the back of the war in Ukraine. We'll be making the case for peace, not war and examining ways in which Irish neutrality is an important tool in conflict resolution.
This public meeting will be held by Zoom - a link will be emailed to you the day before the event, after you have registered for it. The event is free.
Swords to Ploughshares Ireland is an all island network of peace activists opposed to war and militarisation.