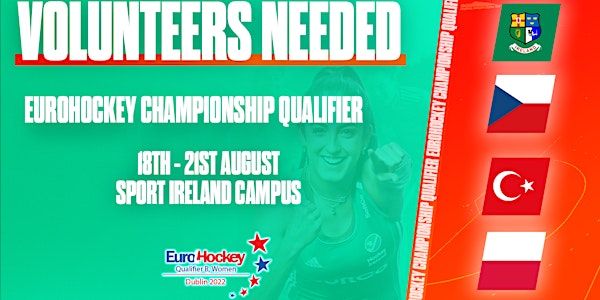 Euro Qualifiers - Saturday 20th Volunteer Sign up
Euro Qualifiers - Saturday 20th August Volunteer Sign Up
When and where
Location
Abbotstown Snugborough Road Dublin Ireland
About this event
The Euro Qualifiers showcases our Senior Womens team against the Czech Republic, Turkey and Poland.
Venue: Sport Ireland Campus, Abbotstown, Dublin 15
Dates: 18-21 August 2022.
Ireland women will be the top ranked outfit going into the event aiming to secure the ultimate prize of qualifying for the 2023 EuroHockey Championships, which will be held in Germany.
Opportunities
We are looking for volunteers for the following roles:
- Spectator Services
- Field of Play
- Media Liaison
- Team/Official Liaison
- Ticketing Services
- Transport Coordinator
- Volunteer Coordinator
Refreshments will be provided. You will also have the opportunity to learn some new skills, watch some high-octane hockey, catch up with old friends, and/or make some new ones!
These roles will require a certain level of physical fitness and for you to be on your feet for periods of time - you will need a positive can-do attitude as well as a willingness to work as team and show initiative.
There is parking available at the venue.
How to apply
Please select the dates you are available
Please note:
- Applying for a role (opportunity) does not guarantee your place at this event.
- By applying for a role, if successful, you are committing to attend the event.
Unfortunately, Hockey Ireland cannot support with travel or accommodation costs.
Minimum age of 16 and Parental consent is required for volunteers under 18.
What happens next?
- Closing time/date for applications is midnight Friday 12th August.
- You will receive an automated email to confirm your application has been received.
- Successful applicants will be advised week commencing 15th August.
Any questions?
Please contact us at info@hockey.ie