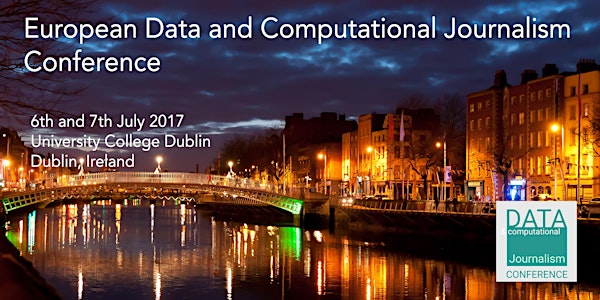 European Data and Computational Journalism Conference
When and where
Location
University College Dublin Stillorgan Road 4 Dublin Ireland
Description
The European Data and Computational Journalism Conference aims to bring together industry, practitioners and academics in the fields of journalism and news production, and information, data, social and computer sciences, facilitating a multidisciplinary discussion on these topics in order to advance research and practice in the broad area of Data and Computational Journalism.
Held in Dublin, Ireland on 6th and 7th July 2017, the conference will present a mix of academic talks, industry talk and keynotes from industry leaders.
Day 1: The main conference will be on the 6th July.
Day 2: On the 7th July there will be two half day parallel sessions. One session will be a half-day 'Introduction to Data Journalism' workshop and the other will be the 'Computational and Data Journalism Unconference'.
Attendance to Day 2 sessions are free for all registered delegates, but a separate registration is required for these through Hacks/Hackers Dublin and Hacks/Hackers South Wales X South West.
For more information on the conference and the list of invited speakers please visit the conference website on Datajconf.com.
Twitter: @datajconf
Hashtag: #datajconf