Event Information
Location
DCU All Hallows Campus
Grace Park Road
Drumcondra
D09 N920 Dublin
Ireland
A one-day Apologetics Conference for young adults at All Hallows' College, Drumcondra, Dublin on Saturday 26th March 2022.
About this event
Evangelium Ireland is holding its one-day apologetics conference for young Catholics in All Hallows College, Dublin, on Saturday March 26th.
This will be the first Evangelium event in almost three years, and will involve a range of talks and workshops focused on key aspects of the Catholic Faith.
Key speakers at this year's event include Fr Brendan Kilcoyne with a talk on the importance of Catholic Apolgetics in Ireland today, Fr. Morgan Gavin, whose talk will be focused on the Gospels and Dogma, along with the Dominicans of St. Cecilia who will be giving a talk titled ''Jesus, Yes! The Church, No!' Answering a Modern Cliché.''
In addition to the celebration of Mass, attendees will have a choice of workshops dealing with Church music and culture, and they will be able to put their questions to an Apologetics Panel made up of expert guests. The conference will conclude with a social gathering.
Tickets for Evangelium 2022 cost €38 (which includes lunch and regular refreshments throughout the day). More details available on Evangelium Ireland Facebook page.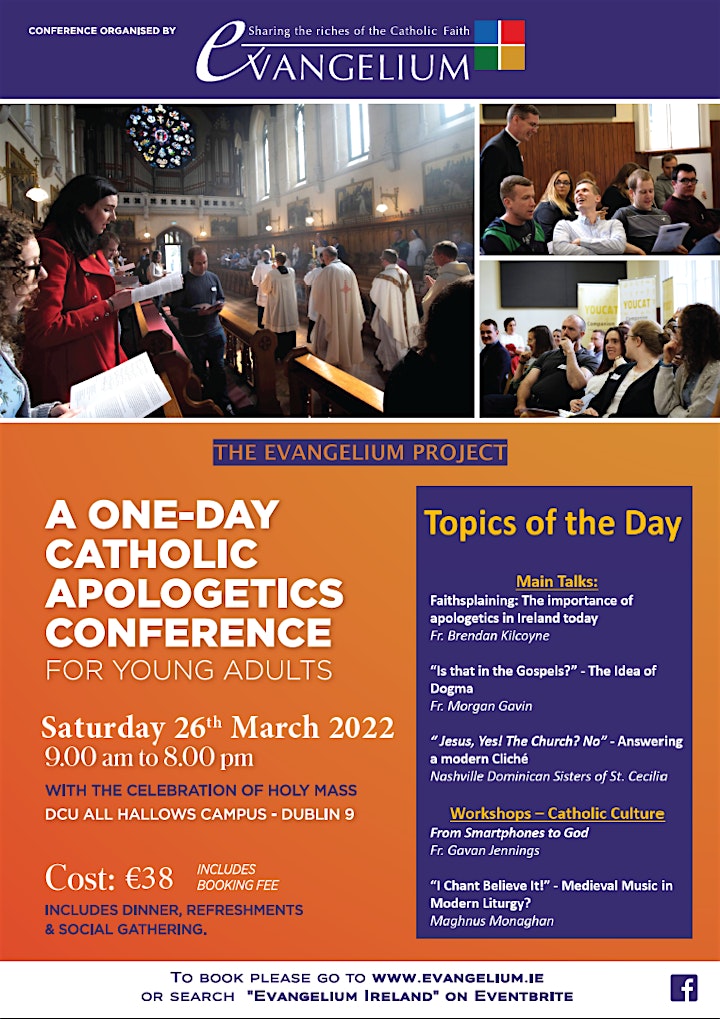 Date and time
Location
DCU All Hallows Campus
Grace Park Road
Drumcondra
D09 N920 Dublin
Ireland