About this Event
The tale revolves around the arrival of a new patient, named Iggy. Iggy claims to be a god (the god of music no less!) who has arrived on Earth to reunite with his long lost love, the goddess of sexual desire and freedom. On arriving in the hospital Iggy becomes convinced that one of the hospital's nurses, Ellie, is his love. The story explores the effect that Iggy's arrival has on Ellie, his fellow patients - Sheena, Otto, Johnny, Ravi and Freddie as well as the hospital's two psychiatrists, Mia and Malcolm. The production will also feature a lot of punk, post-punk, rock and electronic music as well as original music created especially for the project.
We are currently fundraising for this first production, here is the link if you want to support us:
Alternative Echoes Theatre presents "Eventually"
Thank you in advance!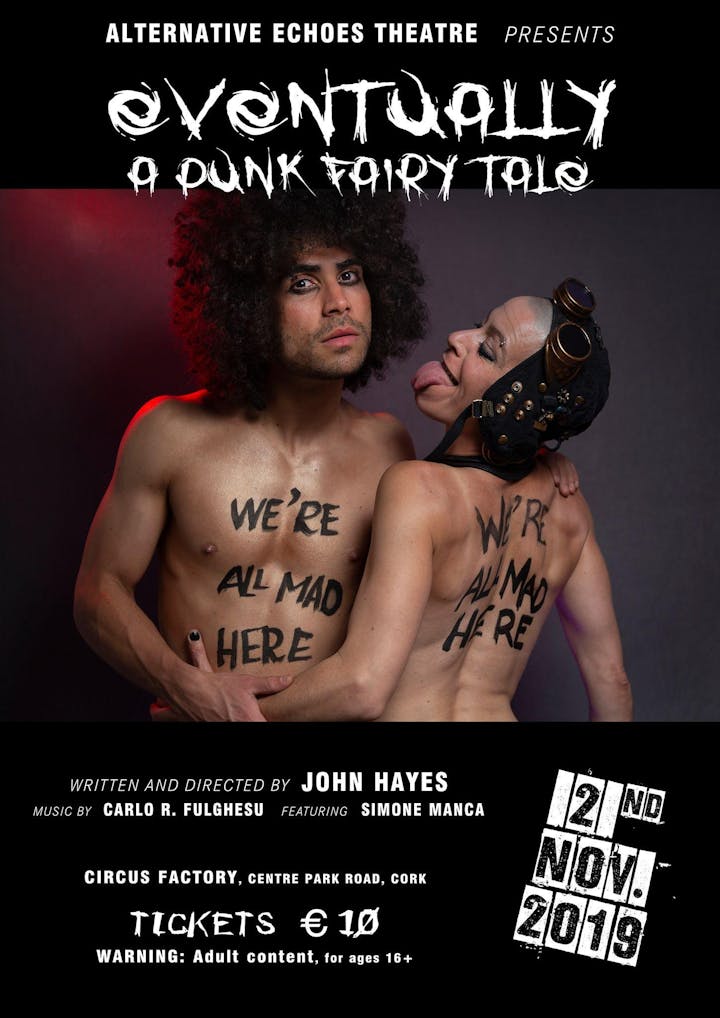 CAST:
John Hayes is the writer and director of "Eventually"
Lucas Farias is playing the role of Iggy
Nabiha Lecoq is playing the role of Ellie
Francesca Castellano is playing the role of Sheena
Odara Lua De Masi is playing the role of Judy and Mia
Carlo Roberto Fulghesu is playing the role of Otto
Jibin Jose is playing the role of Ravi
Luca Tatoscevitz is playing the role of Malcolm
Simone Manca is playing the role of Freddy
Mónica Cabezas is playing the role of Johnny
Clodagh Walsh is playing the role of Debbie
The Goddesses are played by Leah Sohotra, Vicki Davis , Nitzi Arellano, Abigail Russell
Photos by Luca Tatoscevitz | Costumes and scenography by Francesca Castellano | Music by Carlo Roberto Fulghesu, featuring Simone Manca | Choreography by Diviane Helena