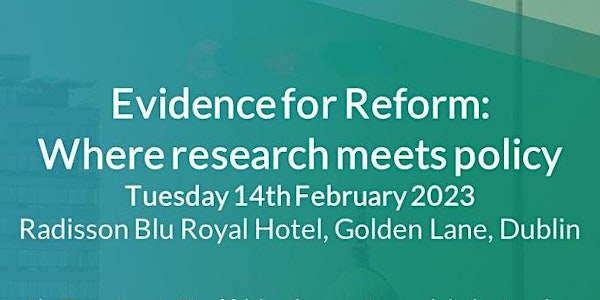 Evidence for Reform - Where research meets policy
An event for system-embedded researchers and policymakers to discuss the research process for health policy and reform for Sláintecare.
By Research Services - Department of Health, Ireland
Date and time
Tue, 14 Feb 2023 09:30 - 16:45 GMT
Location
Radisson Blu Royal Hotel, Dublin Golden Lane D08 VRR7 Dublin 8 Ireland
About this event
Please note that this event will exclusively be in-person with no recordings of the sessions. With limited capacity in the venue, we would encourage you to register at your nearest convenience.
Opening - 09:30 - 09:45
Muiris O'Connor – Assistant Secretary Research & Development and Health Analytics Division, Department of Health. Welcome and comments on the role of research in health reform in Ireland.
Session 1 - Health System Sustainability and Productivity | 09:45 - 11:15
Chair: Louise McGirr, Assistant Secretary, Health Sector Employment & Industrial Relations Policy Division, Department of Health.
Luca Lorenzoni | Organisation for Economic Cooperation and Development (OECD) - Sustainability of health systems: International comparisons and a case study on Ireland
Michael Barry | National Centre for Pharmacoeconomics (NCPE) - Cost containment in pharmaceutical spending
Deirdre O'Donnell | UCD - Interprofessional collaboration in community specialist teams for older people
Coffee Break | 11:15 - 11:30
Session 2 - Expansion of care into the community | 11:30 - 13:00
Chair: Siobhán McArdle, Assistant Secretary, Social Care, Mental Health Drugs Policy and Unscheduled Care, Department of Health.
Paul Kavanagh and Marian Keane | Health Service Executive (HSE) - Integrated Service Model – analytic support across strategy, operations and clinical domains
Therese McDonnell | UCD Iris Health Systems Research Centre - Induced demand under the expansion of GP Visit Cards
Austin Warters | HSE - Using health admin data to identify approaches for improving outcomes for frail older adults with a focus on home support
Lunch | 13:00 - 14:00
Session 3 - Prevention, Health promotion and well-being | 14:00 - 15:30
Chair: Breda Smyth, Chief Medical Officer, Department of Health.
Deirdre Robertson | Economic and Social research Institute (ESRI) - Food labelling & the interaction of industry with policy
Martin Quigley | Pobal & Suzi Lyons | Health Research Board (HRB) - Addiction treatment and geographic deprivation
Irene Gibson | UoG - Delivering prevention services digitally in the home for CVD
Karen Cardwell | Health Information and Quality Authority (HIQA) - Covid 19 – rapid response research collation in response to policy needs
Coffee Break | 15:30 - 15:45
Panel on health research and policy | 15:45-16:45
Chair: Jasmina Behan, Assistant Secretary, Department of Public Expenditure and Reform
Robert Watt – Secretary General Department of Health
Bernard Gloster – incoming CEO of the Health Service Executive (HSE)
Ana Terrés – Head of Research and Evidence, Health Service Executive (HSE)
Máirín Ryan – Director of Health Technology Assessment, Health Information and Quality Authority (HIQA)
Mairéad O'Driscoll – CEO, Health Research Board (HRB)
Close at 16:45