Multiple Dates
Exhibition: "The House of Oscar Wilde (as imagined by Arthur Cravan)"
Event Information
Location
Trinity Oscar Wilde Centre for Irish Writing
Panoz Institute
Trinity College
D2 Dublin
Ireland
Description
The House of Oscar Wilde (as imagined by Arthur Cravan) is an art project presented at the Trinity Oscar Wilde Centre for Irish Writing in Dublin. In its totality this piece meant to be a mise en scène based on Cravan's meticulous description of Wilde's House in London having the House 21 in Westland Row, where the Irish writer was born, as the exhibition venue.
Arthur Cravan (born in 1887, Lausanne, Switzerland, disappeared on a sailboat in 1918 off the coast of the Mexican Pacific) was a poet, a pugilist, an iconic figure for the Dada movement, and, very crucially for the Dublin component of the project, Wilde's nephew. Though Cravan never met Wilde, the writer became a figure whose steps he needed to follow. Re-creating the place which Wilde inhabited following the rumours of others was an endeavour of first importance for Cravan who was looking to shape the Wilde in his mind using his own words.
One step ahead, this project —comprising an installation with objects and a live performance—, is a collective effort coordinated by an anonymous artist that looks to materialise the space Cravan imagined to welcome other Wilde hunters, readers, admirers or even mere acquaintances to inhabit it by themselves.
Here you can book entrance tickets for the exhibition. Due to space limitations, timed access is in place. Please arrive on time for the allocated slot.
-------
We were told that Oscar Wilde Centre is difficult to locate, so we prepared this map for your convenience. Access is on the TCD side of the campus, not from Westland Row!! See you at the exhibition.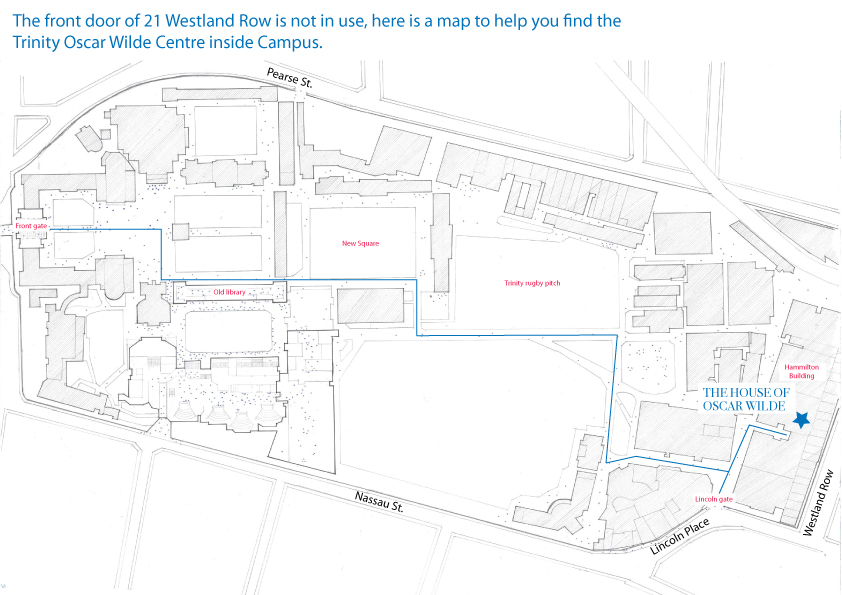 Location
Trinity Oscar Wilde Centre for Irish Writing
Panoz Institute
Trinity College
D2 Dublin
Ireland