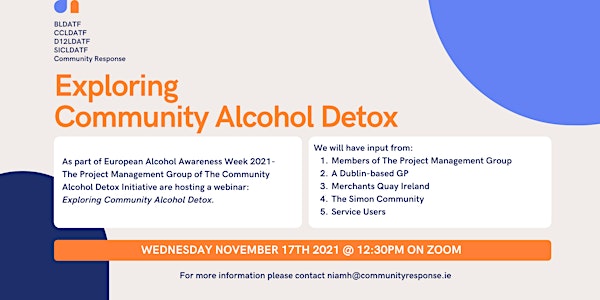 Exploring Community Alcohol Detox
As part of European Alcohol Awareness Week 2021, this webinar is hosted to Explore Community Alcohol Detox
About this event
As part of European Alcohol Awareness Week, The Project Management Group of The Community Alcohol Detox Initiative is hosting a webinar focusing on Exploring Community Alcohol Detox.
This is an essential webinar for service providers, GP's and all professionals who work to support and improve the health and wellbeing of individuals who have alcohol dependence or engage in harmful drinking. It is essential to create awareness, work collaboratively and strengthen our capacity to work together and respond to problematic alcohol use in the community.
The Community Alcohol Detox project is a strategic regional response that covers four Local Drug and Alcohol Task Force areas; Ballyfermot, Canal Communities, Dublin 12, and the South Inner City. The project is targeting individuals who would like to address their alcohol use. The strategic vision of the project is to improve the health and wellbeing of people who have alcohol dependence or are engaged in harmful drinking. This will involve developing robust interagency protocols in line with the National Drug Rehabilitation Framework. The project aims to build on existing resources and expertise to respond to the issues of alcohol misuse and will work collaboratively with a variety of stakeholders.
We will have input from:
• The Project Management Group
• A Dublin-based GP
• Merchants Quay, Ireland
• The Simon Community
• Service users
We aim to cover:
• The role of the Community Alcohol Detox Initiative in mitigating the burden of problematic alcohol use.
• Barriers to service users accessing the Community Alcohol Detox
• The support required for people to complete a Community Alcohol Detox
• What we can do going forward to strengthen our capacity to respond to service users
This is an online event on zoom and you can register for our event at the attached link. As always, we will be answering your questions on the night. Please be sure to ask and get involved. The webinar will be recorded on the day and it will be made available online after the event.
If you have any questions or queries, please contact niamh@communityresponse.ie or 0861381886.