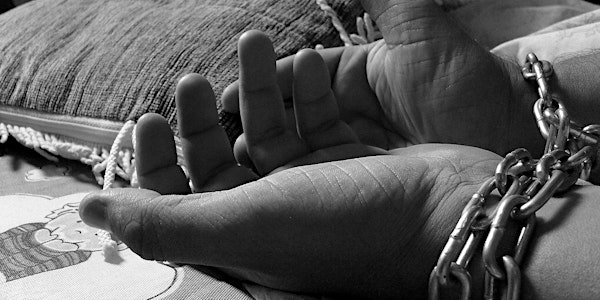 Exploring the extent of Modern Slavery and Human Trafficking
Exploring the extent of Modern Slavery and Human Trafficking between Ireland and the United Kingdom; through the lens of Organised Crime
About this event
Exploring the extent of Modern Slavery and Human Trafficking between Ireland and the United Kingdom; through the lens of Organised Crime
Modern Slavery is pervasive, hidden and widely spread crime in both jurisdictions, with a host of different guises, and targets, often aligning for one cause, and that is to reap the rewards of a crime often seen as low risk, and high reward, the majority of which goes undetected. The recognition that slavery has a modern dimension, linked with but not totally the same as human trafficking, has resulted in a greater recognition that people are commonly being exploited and commoditised in a multi-billion pound criminal industry, active on both of these islands. Serious organised crime networks often capitalise on and exploit individuals vulnerability. This discussion seeks to explore the role of such groups, on these islands, to demonstrate the nature and type of activities, that these crimes hide behind and bring some insight to this widespread but often hidden crime.
To do this, 4 key individuals have been brought together to try to shed light on a crime which is dynamic but often silent, hidden behind a veil of lacquer and polish, where individuals are frequently coerced or fooled into seeing opportunity where only exploitation was offered. Our speakers bring different but complementary perspectives to explore the level of such criminality across the two islands.
Speakers:
Dr Carole Murphy - Acting Director, Bakhita Centre for Research on Slavery, Exploitation and Abuse (BCRSEA) - St. Marys University, UK
Dr. Carole Murphy is Associate Professor of Criminology and Sociology at St. Mary's University. She played a key role in establishing the Bakhita Centre for Research on Slavery, Exploitation and Abuse and is currently research lead for the Centre. Her main research interests are in human trafficking, modern slavery, exploitation and abuse, and examining intersections with social problems, inequalities, addiction and health/mental health issues. Carole has published on the challenges faced by asylum-seeking survivors in the UK and on the role of the Catholic Church in raising awareness of modern slavery. Her report, A Game of Chance?: Long-term support for Survivors of Modern Slavery (2018) a study based on interviews with first responders in the UK including police and NGOs, evaluated the impact of gaps in long-term support for survivors of modern slavery. She is currently working on an Economic and Social Research Council (ESRC) funded project: Pathways Through Liberation - Revealing Survivors' Support Journeys Outside of the UK National Referral Mechanism with the Rights Lab, University of Nottingham. She's also the primary investigator on an Arts and Humanities Research Council-funded project: Identifying pathways to support British victims of modern slavery towards safety and recovery: A scoping study.
Dr Cliodhna Murphy - Associate Professor - Maynooth University
Clíodhna joined the Department of Law in 2014, having previously lectured at Dublin City University and held a post-doctoral fellowship at University College Cork. Clíodhna completed her PhD at Trinity College Dublin, where she was awarded an Ussher Fellowship to complete her doctoral work. She is a qualified solicitor and a non-practising member of the Law Society of Ireland.
Clíodhna teaches and researches in the areas of migration law, human rights, international law and company law. She has published widely in these fields, including in journals such as International & Comparative Law Quarterly; Human Rights Quarterly; Industrial Law Journal; and British Journal of Criminology.
Clíodhna has acted as a consultant or legal expert for a variety of organisations, including the Organisation for Security and Co-operation in Europe (OSCE), the EU Agency for Fundamental Rights (FRA), and the European Trade Union Institute (ETUI). She is a member of the Ethical, Political, Legal and Philosophical Studies Committee of the Royal Irish Academy.
Assistant Commissioner Anne Marie Cagney, AGS
Anne Marie Cagney was appointed as Assistant Commissioner in An Garda Síochána in April, 2020 and has responsibility for the Dublin Metropolitan Region. Anne Marie has 32 years' experience in An Garda Síochána in both strategic and operational policing roles. She also held responsibility in leading a significant programme of change and renewal in An Garda Síochána. Prior to taking up her role as Regional Officer, Anne Marie was a Chief Superintendent in the DMR East Division and previously held the role of Detective Superintendent with national responsibility for Human Trafficking Investigations and Organised Prostitution Investigations. She also held responsibility for the development of policies and support structures for victims of crime and works in collaboration with partner agencies in educating and raising awareness of the effects and causes of trafficking. She is a trained Senior Investigating Officer, manages, and coordinates the investigations of major crimes. She also held national responsibility for the Garda Victim Liaison Office whose aim is to enhance the Garda service being provided to victims of crime and traumatic events by providing a respectful, reassuring, responsive and reliable service. She is the holder of an Honours BSc Degree in Police Management from University College Dublin and a Diploma in Law. She successfully completed the Criminal Justice Strategic Leadership Course and holds a Professional Certificate in Whistleblowing Law & Practice from University College Dublin. She is currently undertaking a Professional Certificate in Policing and Human Rights Law in Ireland.
Kevin Hyland, former United Kingdom's Independent Anti-Slavery Commissioner, leading efforts to tackle slavery and human trafficking.
Following 30 years in policing, including leading London's Human Trafficking Unit, in 2014 Kevin Hyland OBE was appointed the UK's first Independent Anti-Slavery Commissioner. He authored and led inclusion of Sustainable Development Goal 8.7 to eradicate human trafficking within the United Nations 15-year strategic priorities.In 2018 Mr Hyland was elected Ireland's representative to the Council of Europe Independent Group of Experts for Trafficking. He was instrumental in establishing and remains chief advisor to the Santa Marta Group, a high-level partnership between law enforcement agencies, faith groups and civil society launched by Pope Francis at the Vatican. He was the instigator for Bakhita House, a London based residential project for women and children who have experienced human trafficking and is on the board of homeless charity The Passage, exploited women's support charity Rahab and Sophie Hayes Foundation who provide employability training for trafficked women.In recognition of his policing and human trafficking efforts in 2015 he was appointed OBE. In 2018 he was co-recipient of the 'Path to peace Award' in New York. In 2019 he was awarded the UN Women UK 'HeForShe' Leadership Award and in 2020 the UN Women for Peace Association Advocacy Award.He chairs the Leadership Group of the Institute of Human Rights and Business and the Island of Ireland Human Trafficking Project and provided strategic leadership to the OSCE victim support guidance.He is a visiting professor to St. Mary's University, London. He has advised legislators in several countries in drafting new laws and provided training and lectured on human rights and policing in Europe, Australia, Central Asia, SE Asia, the USA, Pakistan, India, across the Middle East and South America.
Moderator: Dr James Windle - Director of Criminology - UCC Department of Sociology and Criminology
Dr. James Windle is Lecturer in Criminology and Director of the BA Criminology Degree at University College Cork. He holds a LLM in International Law with International Relations from the University of Kent, and a PhD in Criminology from Loughborough University/Midlands Centre for Criminology and Criminal Justice. Prior to joining UCC, James was Senior Lecturer of Criminology and Criminal Justice at the University of East London, where he was Programme Leader for the BA Criminology and Psychosocial Studies. He was also a Fellow of the UEL Terrorism and Extremism Research Centre. In 2008, James served as a research intern at the UN Office of Drugs and Crime and in 2015 contributed to the Brookings Institute project Improving Global Drug Policy: Comparative Perspectives and UNGASS 2016. He is also a qualified electrician, a trade he worked in for almost ten years before entering academia.His primary research focus has been on illicit drug markets, illicit enterprise, street gangs, organized crime and the history of prohibition. He is currently conducting research on the Irish illicit drug market. He is author of Suppressing Illicit Opium Production: Successful Intervention in Asia and the Middle East (IB Taurus, 2016) and lead editor of Historical Perspectives on Organized Crime and Terrorism (Routledge, 2018). He has published extensively in prominent peer-reviewed social science journals.