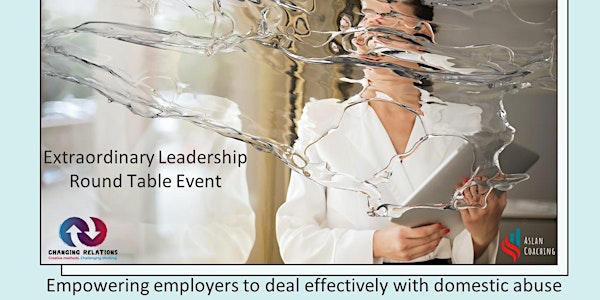 Extraordinary Leadership - Domestic Abuse Awareness Round Table Event
Raising awareness and key insights for employers and managers. Case Studies. Round Table discussion - a safe space to think and speak.
By Lisa Cresswell, Aslan Coaching
Date and time
Tue, 30 May 2023 02:00 - 04:00 PDT
Refund Policy
Contact the organiser to request a refund.
About this event
Do you see it?
Once we become aware of something, it becomes so obvious that we can't 'unsee' it.
What am I talking about?
It's an issue that is rarely spoken of, especially in business environments. But it's an issue that has cost the Irish economy over €56 billion over the last two decades. Other countries report similar costs.
The issue is domestic abuse which affects 1 in 3 women and 1 in 7 men. Far from being a problem only in the home it spills over to workplaces too. 75% of those affected have been targeted at the workplace but only 5% of companies have a policy or plan to manage that.
So it begs the question "Could this happen to us?" With these figures the answer is that it likely already is.
As an employer or manager,
- do you know how to spot the signs?
- would you know what to do if you did notice something amiss?
- would you know how to respond if your employee discloses that they are experiencing domestic abuse?
- are you aware that there is legislation pending in Ireland that will give employees a statutory right to Domestic Violence Leave?
- are you aware that you are a critical lifeline in someone's journey to safety and autonomy?
- can you imagine the impact you could have by responding in the right way?
If you support your employee towards safety, they will never leave their job and they will go to the ends of the earth for you in their role. This is just one of the ways you could stand out from the crowd, attract and retain the best talent and become the leader people cannot wait to work for and will never leave.
The format of this event includes:
Raising awareness and key insights for employers and managers.
Case Studies to discuss.
Round Table discussion where, in a safe confidential space, participants can discuss and brainstorm solutions.
This Round Table event has been designed by Lisa Cresswell of Aslan Coaching in association with Changing Relations, UK. See aslancoaching.ie and https://changingrelations.co.uk/
Delivered by Lisa Cresswell of Aslan Coaching.
About the organiser
Lisa Cresswell, accredited Executive Coach and Trainer.
Certified Practitioner in EQ-i 2.0 (Ascend)
Principles and Practice of Restorative Just Culture, (Northumbria University)
Accredited Coach of Excellence (Professional Development Consortium)
Certified Just Culture Champion (The Just Culture Company)
Diploma in Business, Executive and Personal Coaching (Coach Institute of Ireland).
Professional Training Delivery and Evaluation QQI Level 6 (Train the Trainer)
RGN (NMBI Ireland), RM (NMC UK), Dip. H.E. in Midwifery (Kingston University, UK)
Diplomas in Executive PA and Legal PA (Pitman Training)
Professional Memberships: MAC, NMBI
Lisa is a professional coach and trainer who works with managers and business owners in healthcare, industry and business, helping them become the kind of leaders people cannot wait to work for by developing their leadership skills.
Having first qualified as a general nurse and post-grad as a midwife, Lisa has worked in a diverse range of clinical settings including Beaumont Hospital Dublin, street clinics in Calcutta, King Edward VII Hospital and the Royal Marsden Clinic in London, and GP practices. A move to the administrative side of healthcare included roles in the Blackrock Clinic, Lowell House, and the IPNA where she managed a successful application for charitable tax exemption, drafted governance policies for Boards to approve, mentored rotating Board Members, and coordinated clinical awards and bursaries. In 2016 she qualified as a Business, Executive and Personal Coach, later completing Train the Trainer. She is a Certified Just Culture Champion. She is an advocate, activist and trainer for Zero Tolerance of domestic violence. She is Ireland's only accredited Coach of Excellence with the CPD Standards Office which means she can issue CPD points to her clients for coaching hours undertaken. Her TEDx talk on psychological safety was the 2nd most watched talk in the world in September 2021 and was elevated to the TED.com platform in March 2022.
Lisa's in-depth nursing knowledge of human physiology is interwoven with proven coaching approaches and emerging evidence from the world of neuroscience. Managers in healthcare, safety-critical or risk-averse sectors who aspire to be Restorative Leaders and build a culture of psychological safety and learning at work particularly benefit from her unique mix of skills and expertise. She uses models such as Micro-Resilience, the Five Levels of Leadership, Just Culture, Conversational Intelligence and others as needed.
In coaching she facilitates learning and growth in her clients through coaching in its purest form. She coaches the individual in front of her, holding up a 'mirror' so that they can safely examine their strengths, values and what blocks their progress. Her coaching approach is person-centred, kind, non-judgemental, supportive, championing while challenging, and anchored by unconditional positive regard for each client (Carl Rogers).
She is on coaching and mentoring panels in private, semi-state, cross-border and international bodies. Her R.E.A.L. Leadership online programme is accredited for 7 CPD points by the CPD Standards Office. She co-facilitates peer group coaching supervision sessions with coach colleagues, rotates through committee roles in BNI Rossmore Chapter and is a Director Consultant for the BNI Dublin, North East and West regions. She gives talks and workshops on resilience to community and patient groups, business teams and networking meetings. She is the author and presenter of 'Top Tips for Leaders' on Izz Radio Online and is a regular guest on radio shows. She has contributed to nursing and medical journals, websites and blogs, writing about interventions that enhance health literacy. Her personality type is INFJ Advocate. Her core values are dignity, respect, diversity, non-judgement and compassion.