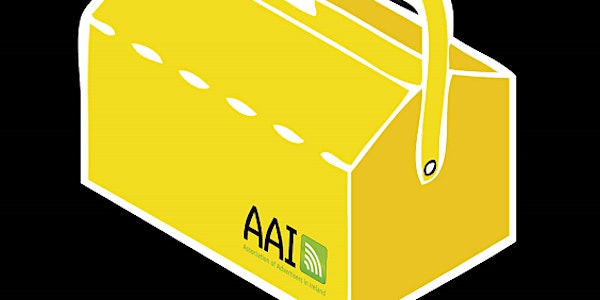 Fact or Fiction? Investigating the potential for long term brand building in TV, Radio, Newspapers, OOH and Cinema
When and where
Location
Dentsu Aegis 2 Haddington Buildings 20-38 Haddington Road D04 HE94 Dublin 4 Ireland
Description
The output of our September #AAIToolkit discussions highlighted that to maximise effectiveness and efficiency Marketers ideally need to build a strategy incorporating short term sales activations and long term brand building. A ratio of 60% broad reach, emotive creative with 40% shorter term targeted, information rich, calls to action appears to be a good mix to building profitability for a business through Marketing
To illustrate the impact of a strategic focus beyond 6 months, #AAIToolkit for October 2018 invites Cinema, Out of Home, Newspapers, TV and Radio to propose an example of long term brand building through their medium which has resulted in significant increase in share of voice for a brand.
New Developments for 2019 may also be shared per medium.
CINEMA: Sarah Clohessy, Wide Eye Media
OOH: Colum Harmon, PML Group
NEWSPAPERS: Dianne Newmann, RAM Research & Media
TV: Oscar Kennedy, RTE
RADIO: Brian McCarthy, Urban Media
Biographies:
Sarah Clohessy, Marketing & Research Manager Wide Eye Media
Sarah has almost 20-years Marketing and Research experience in the advertising industry. Having worked in FMCG and Financial Services, her media career began in Press, followed by Out-of-Home advertising, before she moved into Cinema. During this time, she has worked with many blue-chip clients, as well as the top media and creative agencies in the country.
As Marketing & Research Manger of Wide Eye Media, the Cinema advertising specialist, Sarah combines her expertise in managing all aspects of the marketing mix and providing insights from research with her love of film.
Colum Harmon, PML Marketing Director
PML Group offers a complete OOH marketing service, from data-led media planning and buying to campaign monitoring, creative services and post-campaign research and market intelligence.
Colum has worked for PML Group since 2000, having previously worked in a sales and marketing role for CIÉ Tours International. He is a graduate of Dublin City University, with a degree in Business & Marketing.
Dianne Newman, CEO RAM, Research & Analysis of Media
RAM, Research & Analysis of Media , is an international media research company. With circa 1,000 clients across 18 countries, RAM provide the industry with pioneering statistics of how ads, articles and other media communication are consumed and understood across print, digital and broadcast media.
With probably the largest reference database in the world for media, RAM compares measured results against standard values in order to evaluate the results achieved for any specific campaign. In a period of over 16 years, RAM has carried out over 60 million interviews of ads and editorial content in order to measure the effectiveness of the communication.
The RAM UK and Ireland team is headed up by Dianne Newman, who has over 25 years' experience in Media Research. Previous roles have included Head of Research for The Daily Record & Sunday Mail, Head of Research for The Scotsman, and more recently, Group Head of Research for Johnston Press.
Dianne is an expert in newspaper advertising effectiveness research through her work with some of the UK and Ireland's largest media groups. She regularly speaks at conferences and seminars and is an extremely engaging presenter.
Oscar Kennedy, Client Sales
Oscar has worked in Irish Media for 7 years - initially for RTÉ television in client campaign implementation. Then moving to Channel 4 sales as a Sales executive working with some of Ireland's biggest Agency groups.
Oscar then returned to RTÉ taking up client and Agency facing roles in TV Clients Sales and Digital .
Moving to a role of Account Manager in Mediacom, he was responsible for media planning across portfolio of clients, including Universal Pictures, SEAT and Akzonobel.
Oscar now is part of the newly established RTÉ Media Sales Integrated Client Sales team, utilising both his sales side and agency experience to deliver on client needs across all RTÉ platforms and products.
Brian McCarthy, Sales Director urbanmedia
The urbanmedia team is responsible for creating onair, onstreet and online solutions for clients across Wireless group's portfolio of stations. Having joined the company in 2003, then UTV, Brian became Sales Manager in 2008 and Sales Director in 2010. He was part of the team that launched the UTV Radio Solutions urban access package that changed how radio is bought in Ireland.
In 2016 Brian led the rebrand of the sales house to urbanmedia which has a bigger focus on digital audience to compliment traditional radio audiences. He's also been responsible for delivering 2 outstanding effectiveness case studies in the Irish market illustrating building brand awareness, purchase intent and sales growth for clients.
Brian has an MSc in Business and Leadership from the UCD Smurfit Business School and is an active member of the ChooseRadio initiative which has been set up to promote the Irish radio industry