Description
The International FameLab Science Communication competition is coming to Galway in 2016!
Book your ticket to attend the Galway Regional Heat during which 10 participants will compete for two places in the Ireland final. The ten scientists come from a variety of backgrounds, from a professor of mathematics to a researcher in medical device design. Presentations will answer a range of questions from 'Can biomaterials fix a broken heart?' to 'Will we use light to control the brain?' to 'How can coral reefs survive in cold, wet Ireland?'
The competing scientists will be given a total of three minutes each to explain their research, or any scientific concept they like to a public audience and a panel of judges. This will be followed by three minutes of questions from the judges and the audience. On the night, participants will be judged on the content, clarity and charisma of their presentation. The winner will be a charismatic presenter who makes the science easy to listen to, entertaining, exciting and who is not only able to communicate the science but who can share their passion for it.
Successful candidates who make it through to the initial regional heat, will be invited to attend the FameLab Ireland Final. The Final will be held at the Science Gallery in Dublin on Thursday, 7 April 2016.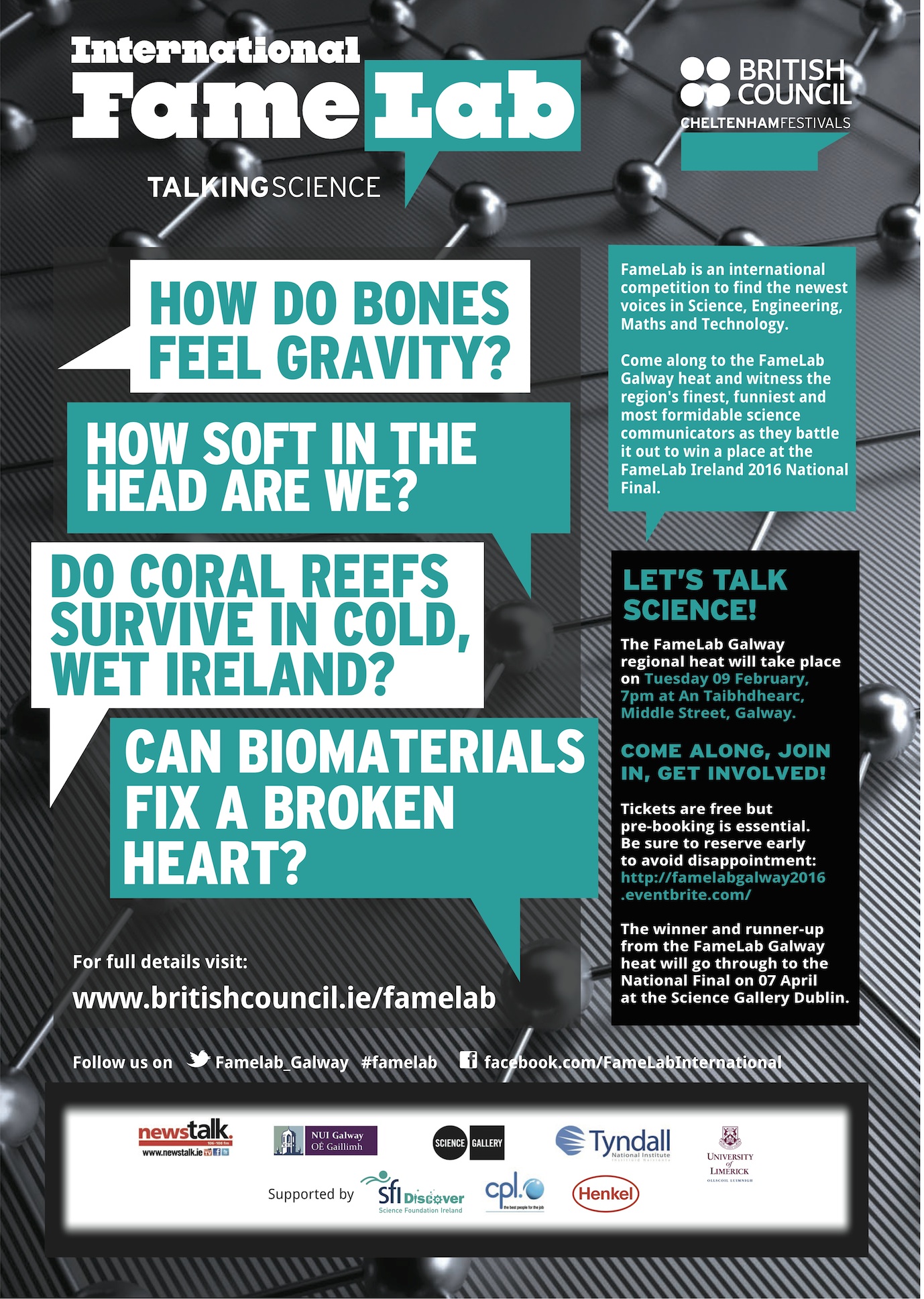 Contestants:
Isma Liza Mohd Isa - CAN A HYDROGEL REPLACE A DISC TO RELIEVE BACK PAIN? PhD student, CÚRAM, SFI Centre for Research in Medical Devices, NUI Galway

Liam Lachs – DO CORAL REEFS SURVIVE IN COLD WET IRELAND? Marine Science Undergraduate student, NUI Galway

Diana Gaspar - CELLS: THE BUILDING BLOCKS IN THE PLAYGROUND OF LIFE. PhD student, CÚRAM, SFI Centre for Research in Medical Devices, NUI Galway

Michel Destrade – HOW SOFT IN THE HEAD ARE WE? Professor of Applied Mathematics, NUI Galway

Ellen McGrory – COFFEE AND CAFFEINE: A LOVE STORY - PhD student, Environmental geochemistry, NUI Galway

Ivor Geoghegan – HOW DO BONES FEEL GRAVITY? PhD Student, Biomedical engineering, CÚRAM, SFI Centre for Research in Medical Devices, NUI Galway

Laura Olsen – WILL WE CONTROL THE BRAIN WITH LIGHT? PhD Student in Pharmacology, NUI Galway

Dilip Thomas – IS BEING A 'COUCH POTATO' IN YOUR DNA? - PhD student, CÚRAM, SFI Centre for Research in Medical Devices, NUI Galway

Edel Browne – TREATING PARKINSON'S, ONE STEP AT A TIME - Biotechnology Undergraduate student, NUI Galway

Paolo Contessotto - CAN BIOMATERIALS FIX A BROKEN HEART? PhD student, CÚRAM, SFI Centre for Research in Medical Devices, NUI Galway
Compere:
Professor Iain MacLaren, Director, Centre for Excellence in Learning & Teaching, NUI Galway

JUDGES:

Professor Dónal Leech, Dean of NUI Galway's College of Science

Michelle Ní Chróinín, Press Officer, NUI Galway

Dr Miriam Haughton, Lecturer, Centre for Drama, Theatre and Performance, NUI Galway

Brendan Smith, Education and Community Outreach Officer, Insight Centre for Data Analytics, NUI Galway
ABOUT FAMELAB:
'FameLab' is one of the biggest science communication competitions in the world, the winner will be a talented presenter who can explain a scientific concept to a general audience, in just three minutes.
The competition is open to scientists, mathematicians and engineers across Ireland working in industry, business, research, academia, education, public service or other sectors, including specialist post-primary science teachers and third-level students of Science, Technology, Engineering and Maths (STEM) subjects.

FameLab Ireland 2015-16 is managed by the British Council in collaboration with Newstalk 106-108fm, NUI Galway, Science Gallery Dublin, Tyndall National Institute and the University of Limerick. The initiative is funded by the Science Foundation Ireland and is supported by Cpl Resources Plc and Henkel Ireland Limited.
FAQs
At what time should I arrive?
Seating will start at 6.45pm.

Where can I contact the organizer with any questions?
famelabgalway@gmail.com