Description
The International FameLab Science Communication competition is returning to Galway in 2017!
Book your ticket to attend the Galway Regional Heat during which participants will compete for two places in the Ireland final. 12 scientists from a variety of backgrounds will offer presentations that will answer a range of questions.

The competing scientists will be given a total of three minutes each to explain their research, or any scientific concept they like to a public audience and a panel of judges. This will be followed by three minutes of questions from the judges and the audience. On the night, participants will be judged on the content, clarity and charisma of their presentation. The winner will be a charismatic presenter who makes the science easy to listen to, entertaining, exciting and who is not only able to communicate the science but who can share their passion for it.
Successful candidates who make it through to the initial regional heat, will be invited to attend the FameLab Ireland Final. The Final will be held at the Science Gallery in Dublin on Thursday, 13th April 2017.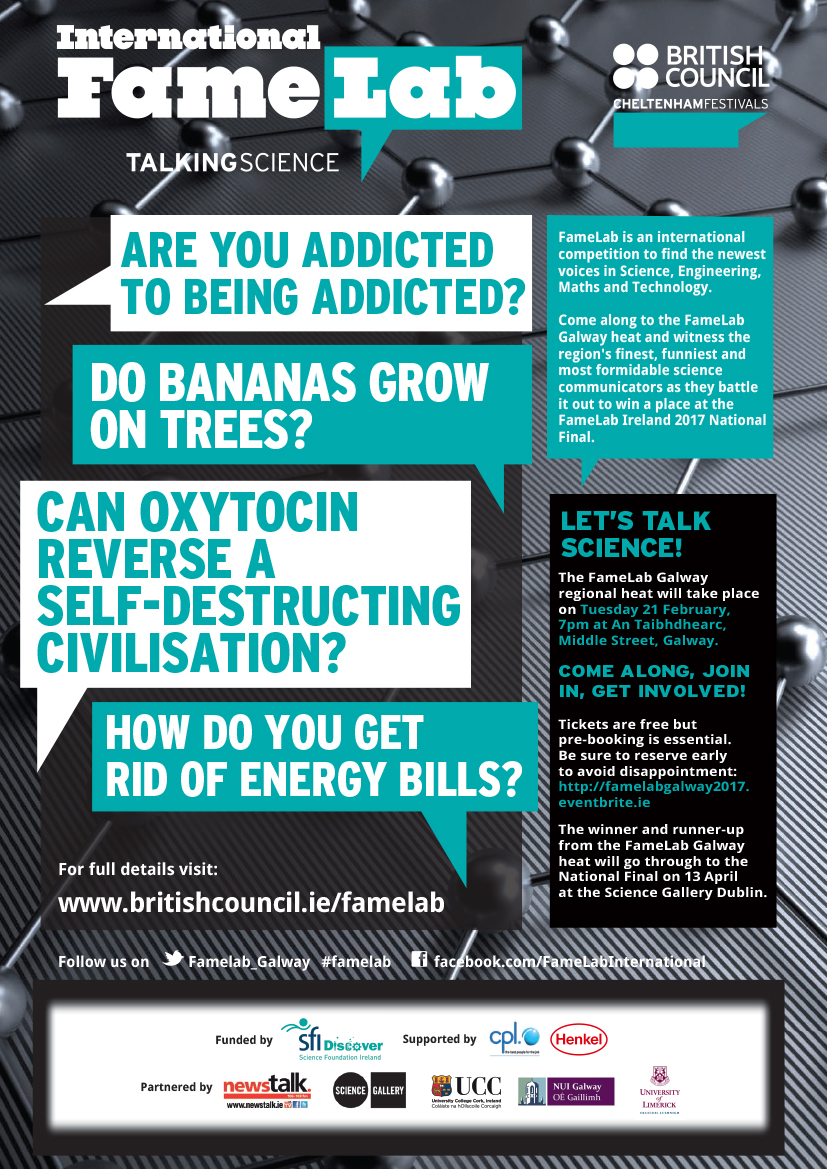 Contestants for the Famelab Galway Heat 2017 are as follow:

Mr Niall Rooney "Addicted to being addicted"

Dr Sarah Brennan "Can Oxytocin reverse a self-destructing civilisation?"

Ms Adeleh Mohammadi "How to get rid of your energy bills"

Dr Patrick Ryan "Bananas don't grow on trees"

Dr Nipun Mahajan "Chemical treasure from the Atlantic Ocean"

Dr Evin Donnelly "Floating through life"

Ms Adele Gabba "The childhood fantasies of J.H. van't Hoff"

Mr Sean O'Gorman "Sean's easy guide to stuff"

Ms Salomé Guillaumin "Love your fat"

Mr James Britton "The Evolution of Curiosity"

Dr Ana Panigassi "Placenta of attention"

Ms Joanne Duffy "The Gene Genies"
Successful candidates who make it through the initial regional heat stage, will be invited to attend an all-expenses paid Communication Masterclass that will help you develop invaluable STEM media and presentation skills. The Communication Masterclass will take place in Dublin on the 25-26 March 2017. The FameLab Ireland Final will be held at the Science Gallery, Dublin on Thursday 13th April 2017.
Compere: Dr Jessamyn Fairfield, Founder of Bright Club Galway, Lecturer in Physics NUIGalway,
Members of the judging panel:
Ms Mary Deely, Training & Events Manager, Galway Film Centre
Ms Cushla Dromgool Regan, Communications Office, Marine Institute
Mr Tim Jones, senior R & D engineer, Medtronic
Professor Dónal Leech, Dean of NUI Galway's College of Science
Interval Act: Ms Aine Gallagher

Aine Gallagher is the 2014 Funny Women runner-up and one of the best Gaeilgeoir comedians in the country, as well as a health promotion researcher. Her show, Jane's Next Step, is an offbeat masterpiece of awkward Irish teacher humour.
ABOUT FAMELAB:
'FameLab' is one of the biggest science communication competitions in the world, the winner will be a talented presenter who can explain a scientific concept to a general audience, in just three minutes.
The competition is open to scientists, mathematicians and engineers across Ireland working in industry, business, research, academia, education, public service or other sectors, including specialist post-primary science teachers and third-level students of Science, Technology, Engineering and Maths (STEM) subjects.

FameLab Ireland 2015-16 is managed by the British Council in collaboration with Newstalk 106-108fm, NUI Galway, Science Gallery Dublin, Tyndall National Institute and the University of Limerick. The initiative is funded by the Science Foundation Ireland and is supported by Cpl Resources Plc and Henkel Ireland Limited.
FAQs
At what time should I arrive?
Seating will start at 6.45pm.

Where can I contact the organizer with any questions?
famelabgalway@gmail.com