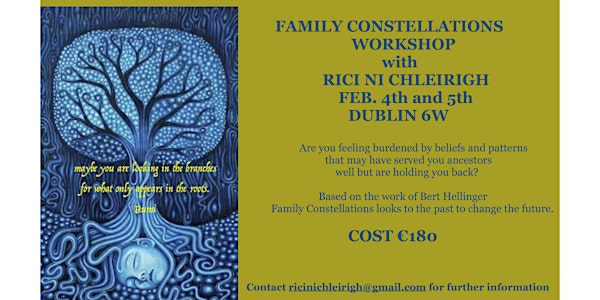 FAMILY CONSTELLATIONS WORKSHOP
Are you feeling burdened by beliefs and patterns of behaviour that may have served your ancestors well but are holding you back?
Date and time
February 4 · 10am - February 5 · 5pm GMT
Location
An Seomra 8 Larkfield Avenue Harold's Cross D6W AY65 Dublin Ireland
Refund Policy
Contact the organizer to request a refund.
About this event
WHAT IS FAMILY CONSTELLATIONS:
Family Constellations is a therapeutic modality founded by Bert Hellinger, who had spent many years as a catholic priest and teacher in a Zulu school in South Africa. In Family Constellations we explore dynamics and patterns that run through families. lt focuses primarily on trans-generational trauma: how the events that affected our ancestors continue to have an effect on us. Our ancestors often had to deal with massive traumas: war, hunger, early deaths, extreme poverty, and the attitudes and strategies they developed to deal with those events can show up in our lives, where they are no longer helpful.
These unconscious memories can lead us, and those around us, parents, siblings, children, to behave in ways that are puzzling to us. When we can make sense of ourselves and crucially those around us we can soften.
Systemic constellation sessions can help you gain insight into past burdens, enabling you to deal with difficulties in the present, whether they be in the sphere of work, money, relationships or family. This in turn help to gain clarity about our future. Many of us concentrate on where it is we want to get to in our lives however in Family Constellations we pay more attention to where we are at this precise moment, and how we got there. By doing this we can clarify which path into the future is best for us.
ABOUT ME:
My name is Rici ni Chleirigh and I work as a Family Constellations Facilitator in Both Ireland and the UK: working in person and on-line, one-to-one and in groups.
Having studied Fine Art, I discovered Family Constellations when I attended a workshop with Barbara Morgan in 2012. Although I had no idea what it was at the time I became instantly fascinated and in 2016 I embarked on an intense 6 years of training with Barbara. I am now an apprentice with Barbara on her most recent training. I have also attended several short trainings with Stephan Hausner and Ty Francis.
The changes I see in myself and my loved ones over those years is what makes me passionate about the value of this work.
WHAT TO EXPECT AT A WORKSHOP:
When we come together in a group we create a confidential space where we explore the hidden dynamics and loyalties of our family systems. Together we create a human map of our issue or situation, using others in the group to represent the various aspects of our issue. By doing this we remove the issue from inside our heads, where it can go round and round in unhelpful circles. Once we step into the representation that is requested of us we find that we feel the need to move in certain ways. Through this new lens we can begin to see why we and those around us behave in ways that seem unhelpful. Although we all have our own unique story, witnessing or representing in another persons history allows us to see how connected we all are and how often our stories overlap. So that even if we don't feel ready to bring our own issue to the workshop, we gain deep insights from the experience. It literally puts us in the shoes of others from where we can allow judgements to soften.