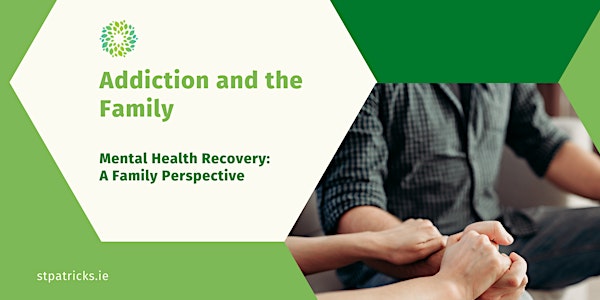 Family Information Series: Addiction and the Family
St Patrick's Mental Health Services (SPMHS) invites you to join the third webinar in our family information series.
About this event
The next webinar in our Mental Health Recovery: A Family Perspective series focuses on Addiction and the Family. Linda Curran, Social Work Team Leader in SPMHS, will present this topic exploring how addiction impacts not only the person, but the whole family.
It has long been recognised that those in recovery benefit greatly from the support of their family and friends. This lecture will help family members recognise the signs of addiction, provide some tips on helpful communication, and outline available supports for family members and carers.
Series background
During our family information series, we will host a webinar each month focusing on a particular mental health concern from the perspective of the family or carers. The webinars will be delivered by different mental health professionals and will cover topics such as addiction, anxiety, adolescent mental health and many others.
If you would like more information on where you can find support as a carer for someone with mental health difficulties, visit the Carers and Supporters page on our website or download a copy of our Carers and Supporters Information Guide.