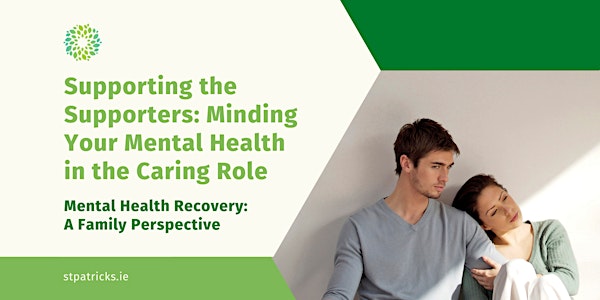 Family Information Series: Minding your mental health in the caring role
St Patrick's Mental Health Services (SPMHS) invites you to a webinar to help supporters of people experiencing mental health difficulty.
About this event
The next webinar in our Mental Health Recovery: A Family Perspective series focuses on supporting the supporters and minding your mental health in the caring role.
Elaine Donnelly and Niamh Fox from the Social Work Department here at SPMHS will lead the webinar.
The webinar coincides with Carers Week 2022. When caring for a loved one in mental health recovery, family members can find it challenging to access simple practical information on mental health, support and self-care. This webinar hopes to address questions and concerns that family members and carers may have, and provide some guidance on how best to look after themselves while they are caring for others too.
The webinar is part of our free family information series, where, each month, different members of our team of mental health professionals hone in on a particular mental health concern from the perspective of the family or carers.
We have hosted these webinars since autumn 2021, covering topics such as understanding trauma, addiction, eating distress and adolescent mental health; you can watch the recordings on our family series page.
If you would like more information on where you can find support as a carer for someone with mental health difficulties, visit the Carers and Supporters page on our website or download a copy of our Carers and Supporters Information Guide.