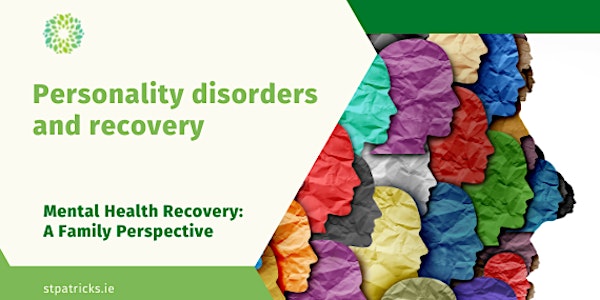 Family Information Series: Personality disorders and recovery
St Patrick's Mental Health Services (SPMHS) invites you to join the next webinar in our family information series.
About this event
The next webinar in our Mental Health Recovery: A Family Perspective series focuses on Personality disorders and recovery' and will be led by Dr Gavin Rush, Consultant Psychiatrist at St Patrick's Mental Health Services.
A personality disorder is a type of mental disorder in which you have an unhealthy pattern of thinking, functioning and behaving, an enduring set of thoughts feeling and behaviours, present since before adolescence and persistent throughout adult life.
When supporting a loved one in mental health recovery, family members often find it challenging to access simple practical information on mental ill health, services, support and self-care. This webinar aims to address any questions or concerns you, as a carer, may have.
Series background
As part of our family information series, we are hosting a webinar each month focusing on a particular mental health concern from the perspective of the family or carers and delivered by different mental health professionals.
We have hosted these webinars since autumn 2021, covering topics such as understanding trauma, addiction, eating distress and adolescent mental health; you can watch the recordings on our family series page.
If you would like more information on where you can find support as a carer for someone with mental health difficulties, visit the Carers and Supporters page on our website or download a copy of our Carers and Supporters Information Guide.