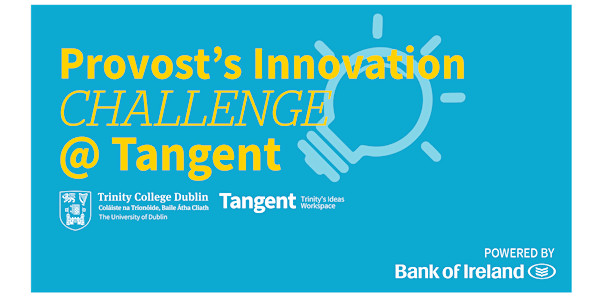 Fast Fashion | Provost's Innovation Challenge @ Tangent - AY 2021-2022
Make a real impact with the Provost's Innovation Challenge @ Tangent, a social good hackathon open to UG & PG Trinity students.
By Tangent | Trinity's Ideas Workspace
Date and time
Fri, 12 Nov 2021 18:15 - Sun, 14 Nov 2021 16:30 GMT
Location
Tangent, Trinity's Ideas Workspace 1st floor TBS Pearse Street Dublin 2 Ireland
About this event
Make a real impact with the Provost's Innovation Challenge @ Tangent!!
We know how important global and societal issues are to our students. At Tangent, Trinity's Ideas Workspace, we are committed to empowering Trinity students to make a real impact on society and the world. This year we are once again running the Provost's Innovation Challenge @ Tangent, and the topic chosen by the College Community is Fast Fashion!
You can Submit Your Idea to the Provost's Challenge here. Don't have an idea? Don't worry - you will be emailed the ideas in advance and sign up to a team.
"Clothing production is the third biggest manufacturing industry after the automotive and technology industries. Textile production contributes more to climate change than international aviation and shipping combined" (House of Common Environmental Audit Committee, 2019)
"More than $500 billion of value is lost every year due to clothing underutilization and the lack of recycling" (Ellen MacArthur Foundation, 2017)
"Nearly 70 million barrels of oil are used each year to make the world's polyester fiber, which is now the most commonly used fiber in our clothing. But it takes more than 200 years to decompose." (Forbes, 2015)
Structure of the Challenge:
Friday 12 November: 6.15pm Arrive in Tangent & register, kick-off of the Challenge, team building, ice-breaking, and scoping the problem case study examples from experts. Finishing at 9.30pm with teams formed and ideas already flowing!
Saturday 13 November: 10am - 5pm Solving the problem - working on creative solutions in groups and forming teams; Mentor Madness with experts from the social enterprise and startup space offering advice and guidance; introduction to pitching.
Sunday 14 November: 10am - 3pm Working on and communicating your idea; pitch practice and feedback with slides ready to go for the pitch final.
3.30pm - 4.30pm Judging for the Provost's Innovation Challenge after which the winning teams will split the €3,000 prize fund!
Look forward to seeing you all soon!
About the organiser
TANGENT, TRINITY'S IDEAS WORKSPACE IS A PLACE IN WHICH TO IMAGINE, COLLABORATE AND PUT INTO ACTION IDEAS THAT CAN CHANGE THE WORLD.
Trinity College Dublin, the University of Dublin is committed to providing a transformative learning environment that fosters innovation and entrepreneurship at all levels across the university. The opportunities opening up today are infinite. They are invisible to some, impossible to others. Identifying these opportunities to students requires new tools and methods. Realising them requires imagination.
Tangent is a new unit in Trinity offering students, staff, and the wider innovation ecosystem programmes and events in innovation, creative thinking, and entrepreneurship. Through our masterclasses, innovation challenges, certificate programmes, hackathons, meetups, fireside chats, incubation space, and startup accelerator programmes – Tangent provides countless opportunities to innovate and imagine. All of which will be held in a newly developed bespoke innovation space on Trinity's main campus.
IMAGINATION We inspire, challenge and provoke a creative mindset among our student population. Through effective education and supports, Tangent helps to spark our students' imagination. We encourage curiosity and ideation. This is what helps us to create real impact.
COLLABORATION We embrace the creative fusion that happens when arts meet science, and education meets enterprise. Through collaboration we believe that when we come together with an open mind and embrace alternative ways of thinking, no challenge is too complex, no opportunity out of reach.
ACTION We do not stop at ideas.  We create impact, disruption, and enterprises. Tangent values action.  We encourage our students to try to create new possibilities. We deliver economic, cultural and social value through entrepreneurship. Our students perseverance enables their ideas to come alive.