Description
What's stopping you living the life you want?
If there is so much free information out there about how to talk to people, go on dates, start a business and live the life you want, then why haven't you achieved success yet?
You've set yourself goals:
Become more social

Go on more dates

Be a better public speaker

Travel the world

Start a business
But you've not gotten the results you wanted through a lack of real action and procrastination.
Answer: FEAR
The brutal truth is that often the only thing stopping us from living the life we want isn't a lack of information or more strategies/techniques, but FEAR.
Fear of What Other People Think of You

Fear of Rejection

Fear of Running out of Things to Say

Fear of Not Being Enough

Fear of Taking Massive Action
If you feel that any of these fears have been stopping you achieving your goals then the Fearless is for you...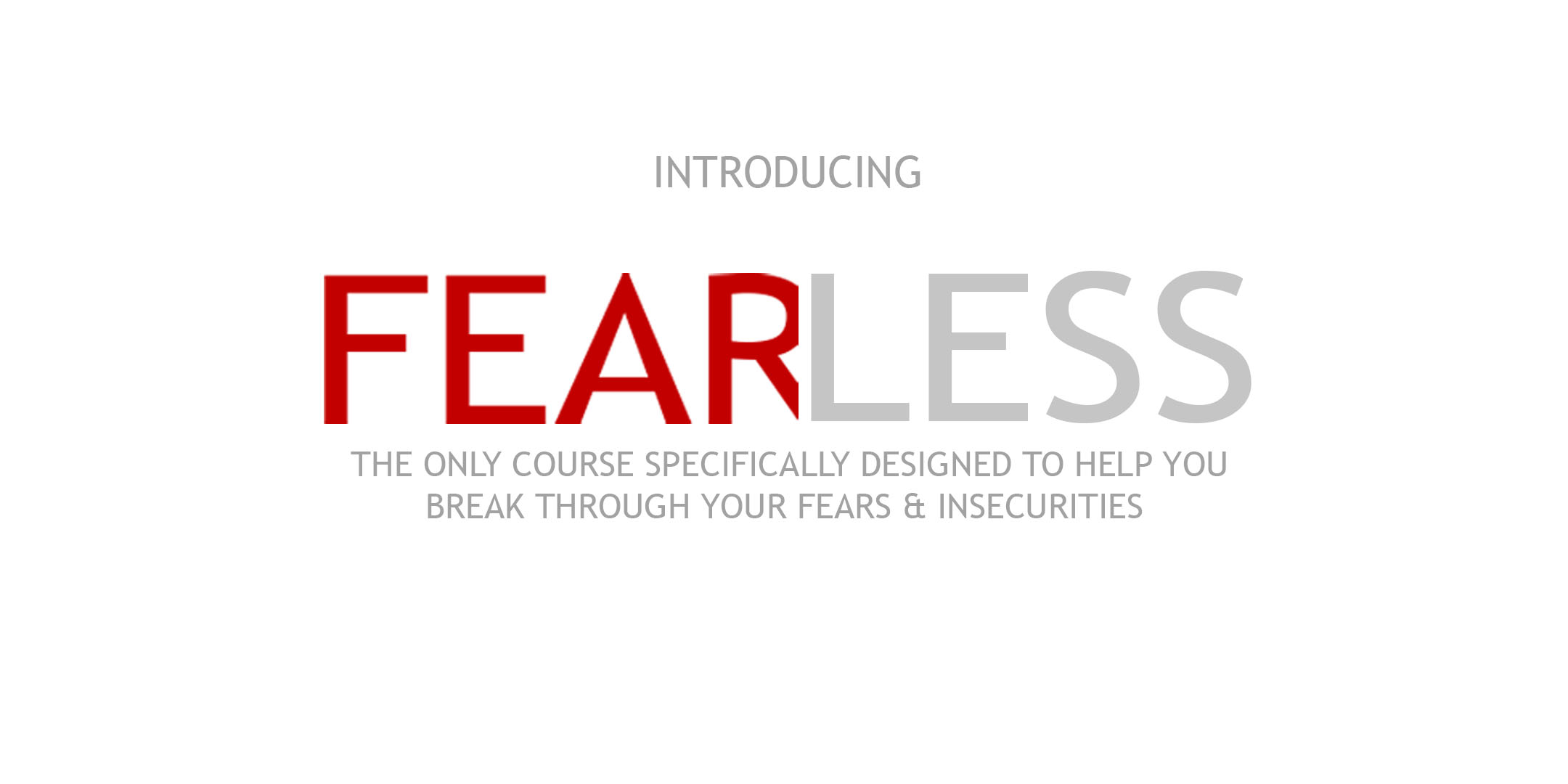 What is
Fearless
?
Fearless is 6-week action-focused "social freedom" course that will force you to break through your fears, limiting beliefs and insecurities that hold you back. So you can start living life on your own terms.
You and a maximum of 7 other students will have coaches over your shoulder for 6 weeks, guiding you, providing constant feedback, and customizing all exercises to where you are at and what will help you the most.
Through the use of social freedom and confidence building exercises every day, you will be able to say and act on the things you know are right for you, without fear of judgement, rejection or embarrassment.
Once you've achieved social freedom and a deep sense of fearlessness, you are free to take massive action towards your goals.
***
Who is the Fearless Project For?
First, let's be clear who Fearless isn't for…
Fearless is NOT for you if...
You're looking for magic words or a quick fix to instantly transform your social skills and confidence.

You're looking to listen to someone talk about being fearless but not implementing the advice.

You can't commit to 15 minutes per day to overcome your fears and change your life.
Fearless IS FOR YOU if…
Awkwardness and anxiety are stopping you from being social and forming deep relationships with your friends.

Fear of what other people are thinking of you is stopping you from presenting yourself confidently when speaking in public.

Fear and a lack of confidence is stopping you from approaching women or men, and having an abundant love life.

Imposter syndrome or lack of confidence in your abilities is stopping you from starting your own business.
You might have read personal development books and attended courses, be it acting, improv, public speaking, etc. all with the aim of overcoming your fears but you still haven't obtained the level of confidence you desire. Then this course is for you…
Unlike other somewhat relevant courses like acting or public speaking, Fearless is the only course 100% designed to target and eliminate the root causes of your fears.
Over the course of 6 weeks, you will use a variety of social freedom exercises, mediations, guided releases and confidence building exercises to transform how you view yourself and your place in this world.
***
How Does Fearless Work?
Fearless is a highly personalised programmed designed to build your confidence and fearless skills day by day. You are not going to be thrown into the deep end and forced way outside of your comfort zone, you will be permanently kept at the desensitisation sweet spot, right at the edge of your comfort zone.
No matter what stage you are at in your journey, Fearless will adapt to your needs. The exercises used are highly adaptable to your individual goals and current position on your fearless journey. They scale from beginner exercises to the highly advanced where you will achieve nearly complete fearlessness. Enabling you to go from someone who is socially anxious to completely socially fearless, be it being a social stud at a party, a confident public speaker or a pick up master.
After the first couple of days, of course, you will feel the difference in your confidence levels and opinion of yourself, because you'll be taking action and seeing the progress it is making.
To ensure that the program best meets your personal situation, when you sign up we will be in touch to learn about your goals, what is holding you back and what you'd like to achieve with the course. Then on the first day of the course, we'll do a series of exercises to test your social freedom From there we will create a personalised program to push your comfort zone and help you achieve your personal goals.
If you'd like to know more about the course structure, and what you will be doing as part of the course then click on the link below to get access to the course curriculum.
Course Schedule
Fearless is run over 6-weeks, with 7 weekly Fearless group sessions. The group sessions will take place on Thursdays from 6:30-9:00pm on Grafton Street, Dublin (we'll move around the city centre). There will also be a number of classroom-based training on the weekly Fearless group sessions.
Cost: €295 (Early Bird Special)/ €395 (Full Price)
Deposit: €95 (non-refundable)
For that investment in yourself, you will receive the following as part of the course:
7 Weekly Fearless Group Sessions.

42 days of personal social freedom training.

Access to the Fearless accountability group.

Video capture and review sessions to identify and solve your sticking points.

A group of like-minded people all taking action to live life on their own terms.
Dates for 7 weekly Fearless group sessions are as follows:
Thursday, 7th February 2019

Thursday, 14th February 2019

Thursday, 21st February 2019

Thursday, 28th February 2019

Thursday, 7th March 2019

Thursday, 14th March 2019

Thursday, 21st March 2019
Each group session will be 2:30 hours and take place between 6:30-9:00pm.
***
The Fearless Guarantee
We are SO CONFIDENT that Fearless will have a profound effect on your life, we have decided to add a no-questions-asked money-back guarantee.
If you complete the course and genuinely believe that it hasn't helped you overcome your fears then we will return your money no-questions-asked.
We have poured our heart and soul into this course and will do everything in our power to get you the life-changing results you deserve.
That is why we are so confident in the power of the course that we are willing to GUARANTEE your results. That's right - with this guarantee, there is no downside.
Simply by signing up, you are guaranteed the new sense of self-confidence and fearlessness you deserve.
If you have any questions then feel free to reach out to us at: hello@iankerins.com