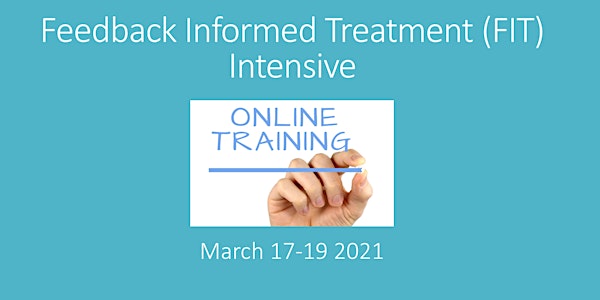 Feedback Informed Treatment (FIT) Intensive ONLINE
FIT Intensive Training with Dr. Scott Miller and colleagues
About this event
The 2021 FIT Intensive (level 1) Training will be ONLINE via Zoom from March 17th - March 19th 2021. If you've read the books, watched the FIT Webinar series or attended a one or two day introductory workshop and want to delve deeper in your understanding and use of the principles and practices of FIT, this is the training for you! Three intensive days focused on skill development. Participants will receive a thorough grounding in:
The empirical foundations of FIT (i.e., research supporting the common factors, outcome and alliance measures, and feedback)
Alliance building skills that cut across different therapeutic orientations and diverse client populations
How to use outcome management tools to inform and improve treatment
How to determine your overall clinical success rates
How to significantly improve your outcome and retention rate via feedback and deliberate practice
How to use technology for support and to improve the services you offer clients and payers
The training will be facilitated by Scott Miller, Ph.D. , ICCE Director along with International Center for Clinical Excellence faculty .
Be sure and sign up early as spots are limited and this event sells several months in advance.
Continuing Education (CE's) can be purchased upon registration. Changes to CE's will be subject to an additional $50 administration fee. CE's are provided by CEUnits.com®, the leading nationally accredited provider of continuing education for healthcare professionals in North America.
Interested in becoming a Certified FIT Trainer? The FIT Intensive level 1 and FIT Supervision Intensive courses are two of the courses required to become a Certified FIT Trainer. Other required courses include the FIT Implementation Intensive and Training of Trainers Intensive. In addition, applicants must pass an on-line exam and submit a suitable video demonstrating their ability to teach FIT.
For more information please send us an email to events@centerforclinicalexcellence.com.
CANCELLATION POLICY
To insure an optimal learning environment, registration for this event is limited in number. The quality of the training depends on all registrants attending and preparing for the event by completing the pre-conference reading assignments. A 50% refund or 100% of tuition will be applied toward the next available training will be made if requested if cancellation occurs 75 days or more prior to the first day of the scheduled event. If cancellation occurs 74-31 days prior to the first day of the event there will be no refund but a 50% of the tuition portion of registration fees will be applied toward the next available training if requested. If cancellation occurs 30 days or less before the event there will be no refunds or deferral of tuition. CE fees will not be refunded.
In the unlikely event the workshop is cancelled (e.g., weather, death, natural or human caused disasters, or other "Acts of God") participants will be automatically registered for the next available training. No liability is assumed or coverage offered for any costs incurred resulting from cancellation.
Scott D. Miller, PhD, is a co-founder of the Center for Clinical Excellence, an international consortium of clinicians, researchers, and educators dedicated to promoting excellence in behavior health. Dr. Miller conducts workshops and training in the United States and abroad, helping hundreds of agencies and organizations, both public and private, to achieve superior results. He is one of a handful of "invited faculty" whose work, thinking, and research is featured at the prestigious "Evolution of Psychotherapy Conference." His humorous and engaging presentation style and command of the research literature consistently inspires practitioners, administrators, and policy makers to make effective changes in service delivery.
Scott is the author of numerous articles and co-author of Working with the Problem Drinker: A Solution Focused Approach (with Insoo Berg [Norton, 1992]), The "Miracle" Method: A Radically New Approach to Problem Drinking (with Insoo Kim Berg [Norton, 1995]), Finding the Adult Within: A Solution-Focused Self-Help Guide (with Barbara McFarland [Brief Therapy Center Press, 1995]), Handbook of Solution-Focused Brief Therapy: Foundations, Applications, and Research (with Mark Hubble and Barry Duncan [Jossey-Bass, 1996]), Escape from Babel: Toward a Unifying Language for Psychotherapy Practice (with Barry Duncan and Mark Hubble [Norton, 1997]), Psychotherapy with Impossible Cases: Efficient Treatment of Therapy Veterans (with Barry Duncan and Mark Hubble [Norton, 1997]), The Heart and Soul of Change (with Mark Hubble and Barry Duncan [APA Press, 1999] and Bruce Wampold [2nd Edition, 2009]), The Heroic Client: A Revolutionary Way to Improve Effectiveness through Client-Directed, Outcome-Informed Therapy (with Barry Duncan [Jossey-Bass, 2000], and Jacqueline Sparks [Revised, 2004]), The Cycle of Excellence: Using Deliberate Pratice to Improve Supervison and Training (with Tony Rousmaniere, Rodney Goodyear and Bruce Wampold [Wiley, 2017]), Feedback Informed Treatment in Clincial Practice: Reaching for Excellence (with David Prescott and Cynthia Maeschalck [APA Press, 2017])