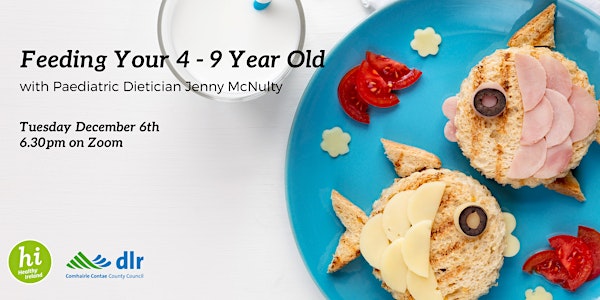 Feeding Your 4-9 Year Old with Paediatric Dietician Jenny McNulty
Join Paediatric Dietician Jenny McNulty to discuss the best way to feed your growing child.
About this event
Your child is getting more and more independent, but they still depend on you as a parent/ guardian for the structure of meals and to decide what is on the menu. In this webinar we will cover the nutritional needs of your 4 - 9 year old, the common problems and we will provide lots of top tips along the way.
This session will take place on Zoom and attendees will have the opportunity to ask questions. Participants are asked to note that this session will be recorded. A link to join the Zoom session will be emailed to participants the morning of the event. This event is funded through the Healthy Ireland at Your Library programme.
About Jenny:
Jenny McNulty is a Senior Paediatric Dietitian and has worked in the hospital setting since graduating from Trinity College Dublin in 2005. Jenny has been based in Temple Street Children's Hospital for over 15 years. There she cares for babies, children and teenagers who are diagnosed with rare disorders of metabolism. These conditions require very complex dietary management. Her job is to translate the science into practical information so parents and children can manage their diets themselves.
Her true passion is around infant feeding and weaning. It is such a crucial time in a child's development. Jenny considers it a privilege to be able to help parents to make the right choices for their children. Her goal is to help you develop healthy eating practices that will minimise fussy eating and make family life easier.
Having two young children of her own, she often draws upon her own personal experiences when talking with parents about diet. She knows just how hard it is to make sense of all the diet information we are bombarded with each day. She believes in a sensible and practical approach to diet for all the family.
Jenny is a member of the Irish Nutrition and Dietetic Institute (INDI) and is Corú registered. This means she has to meet and maintain the standards set out by Corú to ensure she provide safe and appropriate care to the public.