How to feel amazing in 10 days without feeling hungry or eating weird foods!
About this event
This 10 day programme can make you feel so much better & it isn't a fad diet, nor will you starve.
We'll focus on nourishing your body and mind from the inside out. Our daily tips will ensure you know how to take care of you beyond the programme too.
We will be trying out specific recipes & looking at everyday habits & very importantly movement!
For this last part I am super excited to be partnering with the lovely Eileen from Eileen's Pilates Magic who has created 2 new Pilates classes for you to practice over the 10 days.
This 10-day programme is for you if you want to:
• Feel more energised throughout the day
• Feel more comfortable in your clothes - lose inches off the waist
• Support your digestion and banish bloating
• Get into fat-burning mode by eating nutritious food
• And best of all, do it naturally, without supplements or rigid meal plans or counting calories!
What's Included
The Food Plan: featuring 30 delicious whole-food recipes.
10-day Meal planner for you to fill in with your preferences
Daily inspiration & education through short video segments
1 LIVE Q&A session with your hosts
Access to the Practice Better App, a dedicated platform where you can track your progress & get support
2 pre-recorded 20min Pilates sessions with Eileen
Past testimonials:
"If you want to improve your energy, be able to think clearer and eat lovely nutritious food without going hungry, then I would highly recommend this programme. You have the added bonus of access to pilates classes and inches and weight loss to boot! -Caroline"
"7lb weight loss/ 4-5cm off waist and hips. Better sleep, feeling more refreshed. Calmer moods when busy at work. -JF"
"This is a fantastic programme, it's so easy to follow and so achievable and realistic. You feel great doing it and after it - Nikki"
"Food was very tasty and filling and the morning pilates kept me going - Helen"
Price: €49
Recipes will be sent out on Wednesday ahead of the programme launch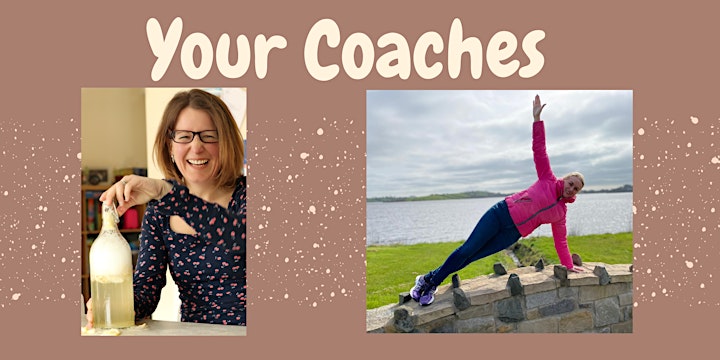 Emily Magee (Adv Diploma & QQI Distinction in Nutrition & Health, Health Coach Certification)
Emily has a family history of diabetes & auto-immune conditions & is on a mission to teach everyone about the everyday things we can do to feel better & look better now & safeguard our selves for the future!
A fussy eater herself in the past, Emily knows what it feels like when you are not eating right for your body & she has learnt all the tricks you need to help you get better for you. She continually updates her knowledge in all matters gut health & blood sugar balancing & helps people get more control over their own health status and improved blood test results at the doctor's.
In this day and age, it's the daily little things we do to protect our health, that will help us win the race of life.
Eileen Hughes
Eileen has made fitness part of her everyday life for the past 35 years, having first qualified as an Exercise to Music teacher back in the late 1980's. She continued her fitness education in various programs and having gained many different fitness qualifications it was only when she developed back pain that she first was introduced to Pilates. Through Pilates practice, she became pain free, and she then added to her list of qualifications by training as a Pilates teacher.
She now promotes Pilates as one of the best ways of getting a strong, flexible body, particularly for the over 40's.
Eileen promotes wellness through movement and has a strong desire to make high quality Pilates programs accessible to all. She offers online Live Pilates classes in addition to offering Pilates on demand by providing pre-recorded classes that are updated each month.