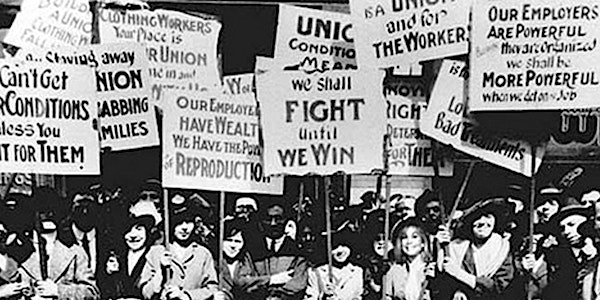 Female enfranchisement and its limitations, 1918-2018: Gender, politics, cl...
Event Information
Location
Trinity Long Room Hub
Fellows Square
Trinity College Dublin
Dublin
Ireland
Description
This symposium will be held at the Long Room Hub in May 2018 to commemorate 100 years of Suffrage in Ireland. It draws together established and early-career scholars in the fields of history, politics, art history and gender studies. The papers focus on the modern world and the invited participants have been asked to consider suffrage, gender, class, caste, colonialism, post-colonialism in Ireland, Europe and India.
28 May 2018
9.00am:Registration
9.30am: opening remarks, Speaker, TBC.
9.45 am -11.15:The Vote: Ireland and India.
Chair: Dr Ciara Breathnach, UL.
Professor EunanO'Halpin, TCD, '"That urge to fight for the freedom of their country": female freedom fighters in the century of enfranchisement'.
Dr Jyoti Atwal, JNU), ''Politics of voting Rights : Margaret Cousins (1878-1954) in India and Ireland'.
Dr Sarah Anne Buckley, NUIG, ''Working-class mothers and suffrage in Ireland'.
11.15-11.45: Tea/coffee
11.45-1.30: Patriotism, Suffrage, Class and Caste.
Chair: Professor Eunan O'Halpin, TCD.
Dr Padma Anagol, Cardiff University, 'Empowering women, Empowering the nation: Patriotism, cultures of consumption and middle-class women in Western India.'
Dr Kate O'Malley, Royal Irish Academy, 'After Suffrage. Irish women activists and India.'
Professor Ivana Bacik, TCD, '#Vótáil100, 100 years of Women in Parliament'.
1.30-2.30 Lunch
2.30-4pm: Suffrage, gender and religion: the politics of the 'everyday', Ireland and Poland.
Chair: Dr Catherine Lawless.
Dr Alex Tierney, TCD, 'Free State and Northern Irish legislatures: gender politics and paternalistic states, 1920-1940'.
Dr Leanne McCormick, Ulster University, 'Women, sexuality and suffrage in early twentieth century Ulster'.
Dr Jackie Hayden, The re-catholicization of Polish values: women in retreat after Solidarity.
4pm: Closing Remarks: Professor Jane Ohlmeyer, TCD. Gender and the Academy in the twenty-first Century.
Generously funded by the Department of Culture, Heritage and Gaeltacht under the Decade of Centenaries 2018 programme, and the Arts and Social Sciences Benefaction Fund, TCD.
Date and time
Location
Trinity Long Room Hub
Fellows Square
Trinity College Dublin
Dublin
Ireland