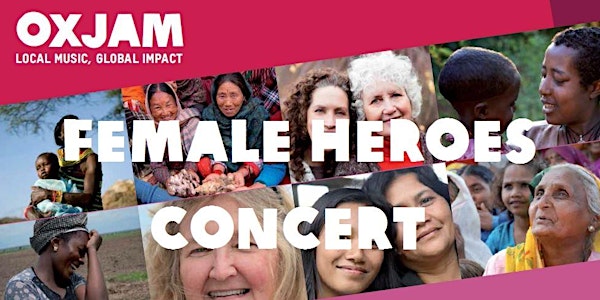 Female Heroes Concert
When and where
Location
Whelan's 25 Wexford Street 2 Dublin Ireland
Description
To celebrate women everywhere – our mothers, daughters, sisters, nieces, best mates and work friends – Oxjam is hosting a Female Heroes Concert.
This special event will take place upstairs in Whelan's on Mother's Day, Sunday, March 6th, just ahead of International Women's Day with three inspirational female artists leading the celebration:
TICKETS (& free Heroes card on the night)
Option 1
'My Mum, My Hero' ticket for €10 (+ booking fee) - Show your mum how much she means to you (Admits 2 people)
Option 2
'You're My Hero' ticket at €6 (+ booking fee) - Show the female hero in your life what they mean to you.
Option 3
Standard Ticket €6 (+ booking fee) - Just join in the fun & celebrate female heroes everywhere
Your support on the night will raise vital awareness and funds for Oxfam Ireland's work with women across the world.
Oxfam Ireland and women's rights:
Every day, in every country in the world, women's efforts to escape poverty are blocked by discrimination and inequality. Women routinely face violence, abuse and unequal treatment at home, at work and in their wider communities.
Oxfam is supporting more than one million women and girls who won't live with that, helping them to fight discrimination and overcome poverty.
Time and time again Oxfam has seen the difference that equal job opportunities, equal health care and education, and freedom from violence can make. In fact, tackling discrimination against women isn't just the right thing to do; it can help end extreme poverty for everyone.
You'll find out more about Oxfam's work with women during a short talk at the Female Heroes Concert.
This is an Oxjam event in aid of Oxfam Ireland.
More Information:
Oxfam Ireland: https://www.oxfamireland.org/
Ending Poverty starts with Women: https://www.youtube.com/watch?v=Uk1thE62LbE
Female Food Heroes: https://www.oxfamireland.org/blog/female-food-heroes-nigeria
Womens Rights:https://www.oxfamireland.org/provingit/equality
Oxjam: https://www.oxfamireland.org/getinvolved/oxjam/home / https://www.facebook.com/oxjamireland