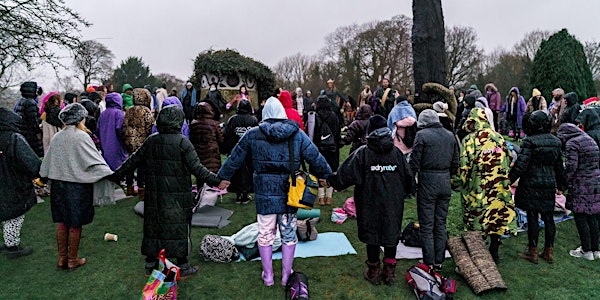 Festival Mná - Summer 2023
"The power of women gathering on our sacred land is unmeasurable" Join Festival Mná for a heartfelt holistic day for all women.
By Festival Mná with The Wellness Coach
Date and time
Sat, 1 Jul 2023 12:00 - 21:00 IST
Location
Dún Na Sí Amenity & Heritage Park Lake Road N37 P271 Moate Ireland
Refund Policy
Contact the organiser to request a refund.
Agenda
Agenda
Untitled agenda
Untitled agenda
12:00 PM - 8:00 PM
Day festival
About this event
What's Happening On The Day
Festival Mná is a unique Holistic gathering celebrating all Women of all ages in Ireland.
The ultimate connection of Ireland's largest Women's Circle Top facilitators hosting lots of different styles of Yoga & Meditation & Breathwork practices throughout the day.
Healing Cacao Ceremonies with Ireland's most experienced Cacao space holders.
Unique artists playing music to move your body.
Music that moves your soul Sound Bath / Kirtan sessions with breathtaking performances.
Ecstatic Dance because its a summer festival vibe theme.
Optional 1:1 Reiki Healing sessions .
Optional Card readings for some life direction.
Remember the day of celebration with some ink ,Tattooing on site - We even have our own Festival Mná tattoo design.
Open Scared Red Tent space to experience some womb TLC with a breastfeeding space.
Yoni steaming a beautiful healing space held by Ireland's gifted womb space holders .
Empowering Speeches from top inspirational speakers on all things woman/mental health and wellness.
Fitness /twerking /hula hooping class for the sweaty fun factor.
Kids holistic area with fun & games to occupy the little ones.
Funky market stalls with unique offerings from jewelry,crystals,clothing to food produces,candles and all things holistic.
Merchandise from Festival Mná & top wellness brands in Ireland.
Amazing Food & Beverages, Cacao , treats for the little ones and food for the soul.
Lots more on the day too with announcements to come!
**Please note some modalities hold an additional charge which will be accessible through our social media platform booking link at a later stage.
THE FIRST FESTIVAL MNÁ
Take a look back at our amazing January Festival Celebrating Nollaig Mná .
EXPERIENCE
At Festival Mná we want to create a magical healing experience felt by the holistic practices on the day.
At Festival Mná we want to encourage all women, especially 3 generations of women to gather together for this historical event.
At Festival Mná we want you to experience that deep connection and empowerment that is felt so strongly when women come together to support ,hold and embrace being women in Ireland today.
We are stronger together.
Festival Mná supporting women of all generation, ethnicity and stage of their journey as a woman.
CONNECT
At Festival Mná we aim to reconnect everyone to this sacred land through our hearts , by giving back to the land and nurturing the feminine energy within ourselves and with each other.
At Festival we embrace and honour the Masculine energy within ourselves through exploring being held in a safe space by our team of experienced ,top male facilitators.
Bringing a balance to the yin & yang energy on the day.
CELEBRATE
Celebrating love, respect, and admiration - as we are each others' greatest sources of inspiration.
The unity of Women standing together in the biggest women's circle in the heart of Ireland is going to be a powerful celebration.