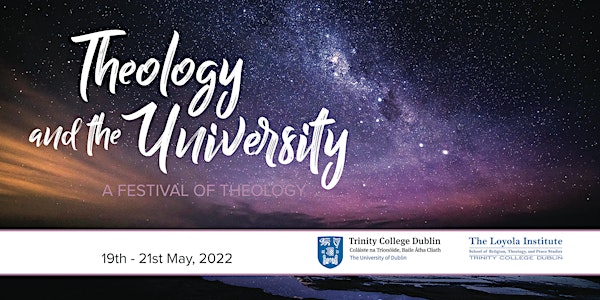 Festival of Theology: Theology and the University – Trinity College Dublin
Location
JM Synge Theatre
Arts Building
Trinity College
D02 PN40 Trinity College Campus
Ireland
Loyola Institute Trust mark the retirement of the Founding Director, Dr Cornelius Casey, and the 10 year anniversary at Trinity College.
About this event
An International Conference
Loyola Institute, Trinity College Dublin, situated in the School of Religion, Theology, and Peace Studies, began its academic mission of teaching and research in theology in the Catholic Christian tradition in 2012. This year marks the tenth year of this project.
What better way to celebrate ten years of the Loyola Institute, Trinity College Dublin, than with the hosting of A Festival of Theology, taking as its theme 'Theology and the University, the challenges, the relevance, the difficulties'? Questions such as 'what is a university for?' 'What role can theology play in the life of a university? Of society? Of the church?' 'What about the critical role of academic freedom?' 'How does the academic study of theology differ from the various other academic approaches to the study of religion?'
We invite you to join in the conversation and argumentation as an international body of academics examine questions such as these over three days, from 19th to 21st May, 2022.
The Festival will open at 6pm on Thursday 19th May 2022 with a Public Lecture by the inaugural Director, Prof Cornelius Casey, entitled 'Theology in a Conversation about Hope'. This will be followed by a reception.
Venue: JM Synge Theatre, Arts Building, Trinity College Dublin.
Conference Registration takes place on Friday 20th May, at the Registration Desk, Arts Building, Trinity College, Dublin from 9 -10 am.
Conference Programme is available at the Loyola Institute Website. If you have any queries please contact Helen at loyola@tcd.ie