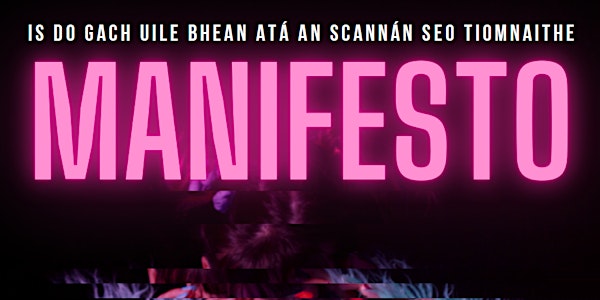 Film Screening of Feminist Short Film 'Manifesto'
Join us for the very first screening of the fictional feminist short film 'Manifesto'!
When and where
Location
The Douglas Hyde Gallery Trinity College Dublin Dublin 2 Ireland
About this event
'Manifesto' is a short film about an adolescent girl trapped in her bedroom, which was commissioned with a Galician feminist audiovisual collective as part of a collaborative, multidisciplinary research project on 'Women's (Im)Mobility in Times of Crisis' funded by the University Global Partnership Network.
Join us for a screening of the film followed by a conversation between Dr Catherine Barbour (lead researcher on the 'Women's (Im)Mobility in Times of Crisis' project) and Eire García Cid, the film's director during which they will talk about the aims of the film in the context of the research on women's (im)mobility.
Find out more about the audiovisual collective CRU here.
Please note - the content may not be suitable for younger audiences
This event is part of Start Talking About Research Today, a European Researchers' Night event taking place across Dublin on Friday, September 30th. Find out more about START and European Researchers' Night here. START has received funding from the European Union's Horizon Europe programme under grant agreement no. 101061478.