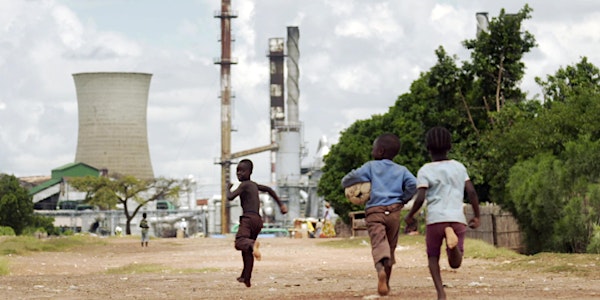 Film Screening: Stealing Africa
Date and time
Thu, 23 Jun 2016 18:30 - 20:00 IST
Location
Filmbase 2 Curved Street Dublin Ireland
Description
Please join ActionAid for a screening of Stealing Africa, at 6.30pm on June 23rd to mark World Public Services Day. This award-winning documentary exposes how mining companies in Zambia are making huge profits and avoiding their fair share of taxes, while two-thirds of people in Zambia live below the poverty line.
Zambia has an abundance of natural resources, but it continues to rank among the poorest 20 countries in the world. When multinationals avoid paying taxes, countries like Zambia are starved of revenue to fund public services like schools, hospitals, medicines and roads. Public services mean the difference between life and death for many of the world's poorest people, and when they're under-funded, the most vulnerable – women and girls – suffer most.
ActionAid's Tax Justice Photo exhibition will be on display in the room from 5.30pm and can be viewed before and after the film screening. This powerful exhibition features stunning images and personal stories from Zambia, Ghana, Malawi, Nigeria, Kenya, Sierra Leone and Liberia showing the true impact of tax dodging on the lives of the world's poorest people.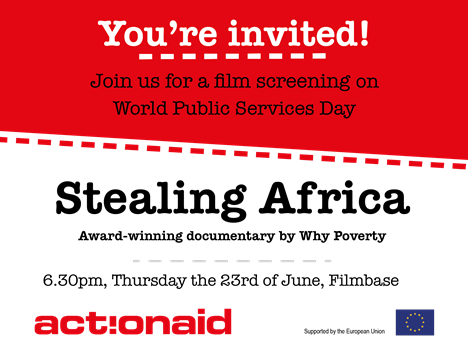 What: Stealing Africa film screening
Date: 6.30pm on Thursday the 23rd of June
Venue: Filmbase, Curved Street, Templebar, Dublin 2
Cost: Free
Please contact olivia.lally@actionaid.org for further information.
About the organiser
ActionAid is a global movement of people working together to further human rights and defeat poverty for all.