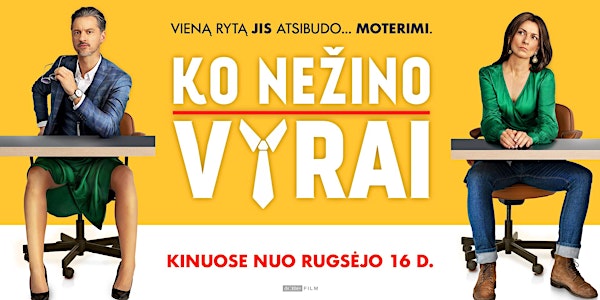 Filmas "Ko nežino vyrai" - DUBLINE (papildomas)
Ar seniai nuoširdžiai kvatojote kino teatre? Jei pasiilgote geros juoko dozės, tai lietuviška komedija "Ko nežino vyrai" – kaip tik jums!
When and where
Location
IMC Santry Cinema OMNI PARK Shoping centre SANTRY Dublin Ireland
Refund Policy
Contact the organiser to request a refund.
About this event
Iš koto verčiančių komedijų "Valentinas vienas", "Importinis jaunikis", "Ir visi jų vyrai" ir "Kaip pavogti žmoną" prodiuseriai sugrįžta su filmu apie tikrą mačo, kuris vieną rytą atsibudo… moterimi.
Susipažinkite su Giedriumi (Vytautas Rumšas jaunesnysis). Jis – populiariaus žurnalo redaktorius, kurį supa gražios moterys, bet kuriam neįdomi niekieno kito, o ypač moterų, nuomonė. Egocentrikas, egoistas, šovinistas - tik jo charakterio "ledkalnio viršūnė".
Vis dėlto nesiskaitymas su kitais vieną dieną kardinaliai pakeičia Giedriaus gyvenimą: jis atleidžiamas iš darbo, o jį pakeičia jauna ir ambicinga redaktorė Ieva (Toma Vaškevičiūtė). Įsiutęs ir padauginęs bare, Giedrius netikėtai atsiduria pas būrėją, o kitą rytą pasitinka didžiausiame savo košmare – jis atsibunda moterimi (Rimantė Valiukaitė).
Kaip jam teks elgtis? Ar "alfa vyras" gali išgyventi moters kailyje? Ko vyrai nežino apie moteris? Ką jos slapta žino apie vyrus? Ar iš viso įmanoma jas suprasti? Visa tai pamatysite komedijoje "Ko nežino vyrai".
Režisierius: Robertas Kuliūnas ("Aš žvaigždė")
Scenarijaus atoriai: Rudolf Havlik, Radka Trestíková
Adaptacija: Matas Vildžius
Vaidina: Rimantė Valiukaitė, Vytautas Rumšas Jaunesnysis, Toma Vaškevičiūtė, Kirilas Glušajevas, Aušra Giedraitytė, Mantas Vaitiekūnas, Agnė Šataitė, Miglė Polikevičiūtė, Valentinas Krulikovskis, Petras Kuneika, Agnė Kaktaitė, Mindaugas Capas, Agnė Jagelavičiūtė ir kiti.