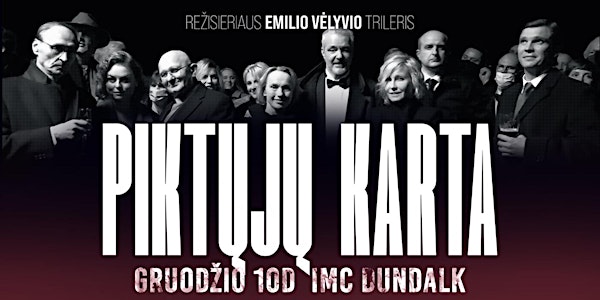 Filmas "Piktųjų karta" - DUNDALKE
Piktųjų karta (2022)
When and where
Location
IMC Cinema Dundalk A91 AC9X A91 AC9X Dundalk Ireland
Refund Policy
Contact the organiser to request a refund.
About this event
Žanras: Trileris, kriminalinis
Sukurta: Lietuva
Režisierius: Emilis Vėlyvis
Vaidina: Vytautas Kaniušonis, Ingeborga Dapkūnaitė, Ainis Storpirštis, Toma Vaškevičiūtė, Mindaugas Papinigis
Trukmė: 1h 53 min
Cenzas: N-16. Žiūrovams nuo 16 metų.
Viena už kitą žiauresnių žmogžudyčių serija sukrečia idilišką provincijos miestelį ir jo politinį elitą, panardindama į kruviną trisdešimties metų senumo KGB detektyvą.
Nepatogi praeitis pradeda persekioti. Ramus ir sotus gyvenimas pasibaigė.
Policijos komisaras Gintas apkaltinamas savo kolegos ir geriausio draugo nužudymu. Žiauri mirtis trenkia kaip perkūnas iš giedro dangaus, būtent tuo metu, kai Gintas paskelbia apie savo kandidatūrą mero rinkimuose.
Kolegos mirtis – tik žmogžudysčių virtinės pradžia.
Destruktyvus ego, nešvarūs ryšiai, beširdė neištikimybė, palaidotos paslaptys nepastebimai suriša draugų gaują, kurie nebegali išduoti vienas kito.
Režisieriaus Emilio Vėlyvio pirmasis lietuviškas kriminalinis trileris, alsuojantis geriausiomis tamsiojo skandinaviško detektyvo – nuaro tradicijomis.
Amžiaus cenzas: N-16
Filmas lietuvių kalba su angliškais subtitrais.
Režisierius: Emilis Vėlyvis
Vaidina: Vytautas Kaniušonis, Ainis Storpirštis, Ingeborga Dapkūnaitė, Toma Vaškevičiūtė, Mindaugas Papinigis