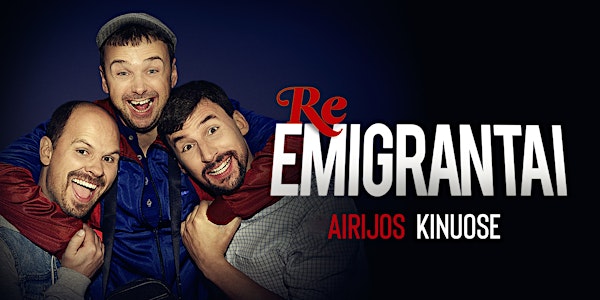 Filmas "ReEmigrantai" - CARLOW
Naujausia lietuviška komedija Carlow!
When and where
Location
IMC Cinema Carlow Barrack Street Carlow Ireland
Refund Policy
Contact the organiser to request a refund.
About this event
Kai šalyje įsisiautėjus "Brexitui" tris draugus – Arminą, Karosą ir Dariušą – išmeta iš vištų fabriko Anglijoje, jaunuoliai nusprendžia grįžti trumpų atostogų į gimtąją Lietuvą.
Gerai pasilinksminę ir išsinuomavę Teslą jie išvažiuoja aplankyti Dariušo mamos. Tačiau išsikrovus automobiliui ir draugams strigus mažo miestelio rajono laukuose, vietiniai valdininkai juos sumaišo su Tesla nvestuotojais. Sklindant gandams Lietuvoje, apie atvykstančius tris investuotojus iš Tesla kompanijos, kurie dairosi vietos giga fabrikui. Valdininkai stengiasi jiems įsiteikti pagal visas politines "tradicijas". Nuo čia ir prasideda nuotykiai! Iš pradžių nesusigaudę kas vyksta, herojai greitai įsijaučia į vaidmenį ir pradeda mėgautis visais susiklosčiusios situacijos privalumais. Kol viskas nepasisuka kita linkme...
"ReEmigrantai" – naujame kultinių komedijų "Tarp mūsų, berniukų…" ir "Klasės susitikimas: berniukai sugrįžta" režisieriaus Kęstučio Gudavičiaus darbe netrūks nei tikros vyriškos draugystės, nei romantikos, o viską vainikuos, atrodytų, nesibaigiančios absurdiškos situacijos.
Filmas lietuvių kalba, be subtitrų.
Režisierius: Kęstutis Gudavičius
Vaidina: Audrius Bružas, Kirilas Glušajevas, Valentinas Krulikovskis, Gelminė Glemžaitė, Arvydas Dapšys, Andrius Žiurauskas