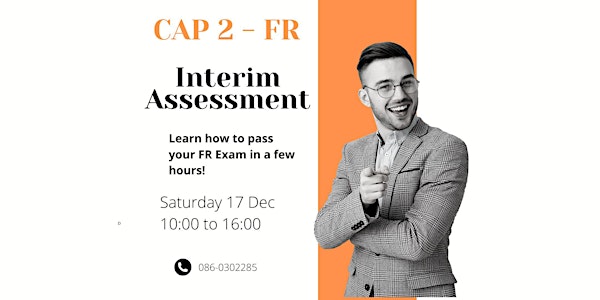 Financial Reporting - CAP2 Interim Revision - FULL DAY
Pass your CAP2 Interim Exam in a single day! FINANCIAL REPORTING - INTERIM EXAM –PRACTICAL EXAM PAPER REVISION
Refund Policy
Contact the organiser to request a refund.
About this event
Past CAP2 Interim Financial Reporting exam questions will be completed on the following areas:
• IFRS 3 Business combinations
• IFRS 9 Financial instruments (CAP 1 level of knowledge only on Interim)
• IFRS 10 Consolidated financial statements
• IFRS 16 Leases
• IAS 1 Presentation of financial statements
• IAS 2 Inventories
• IAS 7 Statement of cash flows (Single company cashflows only)
• IAS 8 Accounting policies, changes in accounting estimates and errors
• IAS 10 Events after the reporting period
• IAS 12 Income taxes (NB: Current Taxation only on Interim)
• IAS 16 Property, plant and equipment
• IAS 37 Provisions, Contingent liabilities, and contingent assets
Exam standard questions will be completed from past papers on all topics.
Who should attend:
Students sitting the Financial Reporting ACA CAP 2 Interim Exam in January 2023!
Aidan is a full-time tax lecturer, author, examiner, and founder of TaxAccountingGrinds.ie
Price: €97.00